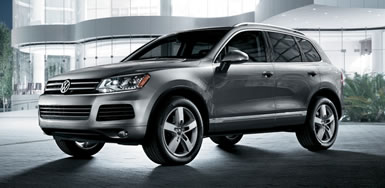 The 2011 Volkswagen Touareg TDI SUV Review: Despite its odd name, the Touareg fits in pretty well here, where family size SUVs are the norm. The German company's entry in the U.S. market is redone for 2011, but it still seems much the same, and that's good.
The redesign includes a new, slimmer face, more emotive raised hood, and the trendy LED running lights that spell "upscale" these days. The taillights are revised as well. The car's a little wider and slightly lower, and the wheelbase and overall length are up a little. The real news, though, is that 350 pounds have been taken out. The car still weighs nearly 2-1/2 tons at 4,974 pounds, but that loss is still a positive thing.
Fuel economy is becoming a more heated issue again as gas approaches the $4.50 a gallon mark, and I was glad to be testing the TDI I Diesel version of the Touareg this week. Of course, Diesel seems to be even more expensive now, but with the 3.0-liter Diesel V6 I got 23.7 miles per gallon and never felt like the car wasn't strong and happy. The EPA gives the car ratings of 19 City, 28 Highway.
Today's Diesels are as clean as gasoline engines, thanks to some complex technology. The EPA numbers for the TDI were 6 for Air Pollution and 4 for Greenhouse Gas, pretty respectable, while the gas version gets 6/3.
The Diesel runs strongly and quietly. Its 225 horsepower doesn't sound like a lot, but with Diesels, it's torque that matters and this baby has a hulking 406 lb.-ft. of it on tap. There's also a 3.6-liter gas engine available that provides 280 horsepower and 265 lb.-ft., as well as Volkswagen's first production hybrid electric vehicle, which pairs an all-new 3.0-liter supercharged, direct injection V6 gasoline engine with an electric motor. Combined, the hybrid boasts a whopping 380 horsepower and 428 lb.-ft. of torque. This is not a Prius. Posted fuel economy numbers of 21 City, 25 Highway are not all that impressive, but it must be a rocket to drive.
All engines run through an eight-speed automatic. Seventh and 8th are overdrive gears that reduce engine rpm, thereby improving fuel economy and lowering emissions. In 8th gear, the engine is turning 33 percent more slowly than it is in 6th. Towing capacity is 7,700 pounds for all models, with the available towing package.
You can get the non-hybrid models in Sport, Lux or Executive levels. My tester was the top-level Executive. All models come well equipped. The Lux increases the alloy wheels from 18" to 19," adds 12-way power adjustable front seats and leather seating surfaces with driver memory, power lumbar and Burr Walnut interior inlays with a wood center console.
It also features an incredible two piece panoramic powered sunroof. It covers nearly the entire roof and is 350 percent larger than the one on the previous model!
The Executive ups the ante with 20" alloy wheels, a heated multifunction steering wheel, heated front and rear seats, a keyless entry system with push-button start, a rearview camera with Park Distance Control (PDC) and a Dynaudio® premium sound system. It gets the panoramic sunroof too.
Driving my Black Touareg TDI with its Black Anthracite Interior was nothing less than pleasant. I appreciated that they put the USB port for the iPod in the glovebox, why don't all manufacturers do that? It was cool that my outside mirrors folded up against the car when I parked. My neighbor, a young man named Peter, appreciated the way the seats hug you. It's a sportier experience than in many other SUVs.
I've used countless audio / navigation systems, but this one was one of the best. It featured a large 8-inch screen, with a DVD/CD player that has MP3 playback capabilities and Satellite/FM/AM stereo, along with a 60GB hard drive with 18GB of space available to upload media. Generously proportioned buttons made it easy to select destinations. You can choose from a two or three-dimensional representation of the driving grid. A pleasant female voice directed me; she mispronounced one of my local streets, but it's not the first time that's happened.
The kinds of items that get improved from one generation to the next include the new automatically opening and closing tailgate that can be operated from inside the car, at the tailgate itself or through the redesigned key fob.
Prices start at $44,450 for the Sport and top out with the Hybrid, at $60,565. My TDI Executive, with no options and $820 for shipping, came to $58,320.
It's been a long time since you could drive off in a Beetle for $1,500. This new Touareg delivers everything you'd expect in an upscale German SUV, it just says VW on it. By Steve Schaefer © AutoWire.Net - San Francisco
The Bottom Line: The 2011 Volkswagen Touareg SUV with the TDI Diesel engine option has more torque that most pickup trucks do. At 406 lb.-ft. of it on tap the Touareg climbs hills with the greatest of ease. I live in the hills in the San Francisco Bay area and having this much pulling power is nice to have at any speed. No need to downshift as the engine pulls strong from the low RPM's, and gets better as the tach climbs. Of course all this power and technology does not come cheap as the TDI Executive model with zero options has a MSRP sticker of $58,320. The bottom line is the Touareg TDI is a very nice SUV with style, power and lots of electronic goodies that makes a bold statement about you and what you drive. You should - "Drive one, Buy one, Today ©"
Bottom Line Review provided by: Tony Leopardo © AutoWire.Net
The 2011 Volkswagen Touareg TDI SUV Bottom Line Review provided by: Tony Leopardo © AutoWire.Net "Tony the Car Guy" is an automotive writer, editor and publisher in the San Francisco Bay Area. If you have a question or comment for Tony send it to TonyLeo@pacbell.net or visit AutoWire.Net at www.autowire.net - And remember: " You Are What You Drive © "

Column Name: This Diesel SUV runs strongly and quietly
Topic: The 2011 Volkswagen Touareg TDI SUV
Word Count: 1,076
Photo Caption The 2011 Volkswagen Touareg TDI SUV
Photo Credits: Volkswagen Touareg Internet Media
Series #: 2011- 21
Download the Microsoft Word version here: 2011 VW Touareg
Download the Original Image File here: 2011 VW Touareg