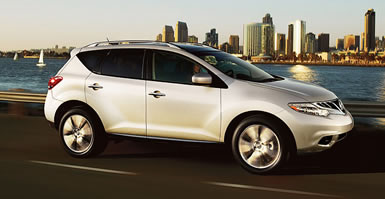 The 2011 Nissan Murano Review: They say imitation is the sincerest form of flattery. If that's the case, the Nissan Murano ought to be blushing from all the compliments it's getting. When it was introduced in 2003, the Murano looked freakish. It was curvy and sleek at a time when SUVs were more likely to be boxy. It was also a sales hit because of its car-like ride and suave interior, both of which were a rarity in '03.
Today's Murano faces a lot more competition than the original, especially from Korean and American crossovers that have closed the quality gap that Japan once enjoyed, but it still fills a niche for people who want their crossover extremely comfortable and carlike.
Today, though, the Murano doesn't look so out of place, and it's not because it's toned down its sweeping lines. It's because so many other crossover vehicles have stolen its bubble-shaped inspiration.
The 2011 Murano gets a refreshed body and interior, although only the most hardcore Nissan fans are likely to notice the changes. It still looks like the curvy, fish-bowl Murano we all know so well, but it's been massaged to tackle the intense competition it faces. Interestingly, it faces some of the stiffest competition from its own cousins under the Infiniti umbrella.
The Murano is an upscale crossover, one that could easily be mistaken for a luxury car if you opt for the right equipment on it. In fact, if somebody had swapped out the Nissan badge for one from Infiniti, I'd believe it. And that's by design.
This is a car that's engineered to be soft, smooth and silent, exactly the kind of driving experience you would expect from a luxury brand. Add leather seats, a big 7-inch navigation screen, a rear-view camera and dual skylights, and you've turned the Murano into bait for Lexus / Infiniti / Acura buyers who want to save some money.
Much of the Murano's luxury appeal comes from its cabin, which Nissan has always described as a "mobile suite." It really is a classy place to spend time on the road, with lots of soft-touch materials and upscale wood and chrome trim. Again, if Nissan would have called the Murano an Infiniti, it would be very believable based on the cabin.
On the flip side, all that expensive engineering that makes the Murano a tempting luxury car can be a bad thing for more family-oriented bargain hunters. The starting price is close to $30,000, and the top-of-the-like Murano LE is inching dangerously close to $40,000. That's getting awfully expensive for a five-passenger crossover from a non-luxury brand.
When you consider the new Hyundai Tucson, also a fairly upscale feeling vehicle, starts under $20,000 and offers similar five-passenger functionality, the bigger Murano doesn't look like as much of a bargain.
In that sense, the Murano is a victim of its own success. It was a pioneer as a sleek, very car-like crossover. And now there are all kinds of sleek, very car-like crossovers to pick from.
What was tested? The 2011 Nissan Murano SL FWD with a base price of $35,450. Options on the Murano: Floor mats for $185. MSRP price as tested including the $800 destination charge came to: $36,435.
Why avoid it? There's a lot of competition for five-passenger crossovers today. Its near $30,000 price makes it more of a bargain for luxury shoppers than crossover shoppers in general.
Why buy it? It's among the most car-like of crossovers, with a ride that's reasonably soft and a near silent cabin. It's upscale enough to compete with luxury brands. By Derek Price © AutoWire.Net - San Francisco
The 2011 Nissan Murano Bottom Line Review provided by:
Tony Leopardo © AutoWire.Net
The Bottom Line: The 2011 Nissan Murano gets a refreshed body for 2011, but it's still instantly recognizable as a Murano. The cabin in the Murano is one of its strongest points and Nissan calls the interior a "mobile suite." With all that new competition, why should you consider it? The most obvious reason is its refinement. It's still one of the best driving, nicest looking crossovers on the market, with a ride that's not too firm, and not too soft. It's a crossover for Goldilocks. So "Drive one, Buy one, Today ©"
Bottom Line Review provided by: Tony Leopardo © AutoWire.Net
"Tony the Car Guy" is an automotive writer, editor and publisher in the San Francisco Bay Area. If you have a question or comment for Tony send it to TonyLeo@pacbell.net or visit AutoWire.Net at www.autowire.net - And remember: " You Are What You Drive © "

Column Name: Upscale Nissan refreshed for 2011
Topic: The 2011 Nissan Murano
Word Count: 813
Photo Caption: The 2011 Nissan Murano
Photo Credits: Nissan Murano Internet Media
Series #: 2011- 22
Download the Microsoft Word version here: 2011 Nissan Murano
Download the Original Image File here: 2011 Nissan Murano