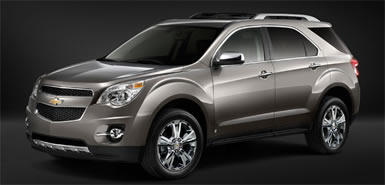 The 2012 GMC Acadia Denali Review: For the third week in a row, I'm driving a General Motors crossover that costs somewhere around $50,000.
Back in the olden days, say, 10 years ago, that would have meant I was driving the exact same vehicle three different times, only with different badges on the hood. GM was notorious at the time for "badge engineering," which was the thing lazy car companies did when they wanted to design one vehicle and sell it at several different dealerships.
They assumed buyers who paid extra for a Cadillac or Buick either wouldn't know, or wouldn't care, that they were essentially getting a Chevy with a different name. Dumb ideas like that brought General Motors to bankruptcy.
Yet, here I am, driving three different 2012 crossovers from GM, and they feel like they come from completely different car companies. It shows how far the new GM has come since the boneheaded GM of yesteryear.
Two weeks ago, the Cadillac SRX drove like a big sports car, very precise and exciting. Last week, the Buick Enclave had a glassy smooth ride and squishy suspension, the perfect vehicle for people who want to float in silence. It couldn't have been more different from the Caddy.
And this week, I'm driving the big GMC Acadia Denali, which seems to slot in right between the other two. It's taller, beefier, more practical and more SUV-like than the sporty Cadillac, but it's also quiet and smooth like the Buick.
The Acadia tries hard to fit in with GMC's tough-truck branding. It has big tires, a relatively high seating position and has squarish, SUV-like styling, but make no mistake about it. The Acadia really is a giant car.
Like all crossovers, it's built with a unibody frame, just like passenger cars. so it weighs less than true, body-on-frame SUVs that are built like pickup trucks.
That means it gets better gas mileage and handles far better than the trucks that GMC is famous for building. It has a beautiful, silent ride, a lot like the luxurious Enclave, but looks more manly, and has a deeper, throatier exhaust note.
The Acadia is powered by a 3.6-liter V6 that gets 24 mpg on the highway but performs more like a V8, making 288 horsepower. With the right equipment, it can tow up to 5,200 pounds.
From the driver's seat, the Acadia feels surprisingly car-like for something this big. It has excellent steering and brake feel and is easy to maneuver in tight parking lots. But from a usability perspective, it's close to what you would expect from a massive Suburban. It has three rows of spacious seats, and the back two rows will fold flat to make a roomy cargo area for hauling big, bulky items.
The biggest downside of the Acadia has to be the price. It starts over
$32,000, which isn't bad for a semi-luxury SUV, but it's an awful lot if you just need a basic three-row crossover. Intense competition means there are plenty of good choices out there with lower sticker prices, even if they're not quite as roomy as this GMC.
The Acadia really makes the most sense when you pile on the options and use it as a cheaper, more efficient alternative to full-size luxury SUVs like the Infiniti QX56, Cadillac Escalade and Lincoln Navigator. It's definitely quiet enough, and classy enough, to compete in that class.
What was tested? The 2012 GMC Acadia FWD Denali with a base price of $43,880. Options on the test car are: the Navigation system for $1890, the DVD player at $1,445 and premium paint for $395. The total MSRP price as tested including the $810 destination charge came to: $48,420.
Why avoid it? There's an awful lot of competition in three-row crossovers for less than $30,000. The Acadia's $32,605 base price makes it more of a semi-luxury car than basic family transportation.
Why buy it? It has a smooth, quiet ride, tough-looking styling and excellent V6 engine. It's a good alternative to full-size luxury SUVs.
By Derek Price © AutoWire.Net - San Francisco
The 2012 GMC Acadia Denali Bottom Line Review provided by:
Tony Leopardo © AutoWire.Net
The Bottom Line: The 2012 GMC Acadia is designed to look like a traditional SUV, but it's actually very car-like from behind the wheel. It has a smooth ride and a quiet cabin. The back two rows of seats in the Acadia fold flat to leave space for hauling big or bulky items, and they are remarkably easy to fold down. Plus the price is in line with the current mix of smaller luxury SUVs, so you should "Drive one, Buy one, Today ©"
Bottom Line Review provided by: Tony Leopardo © AutoWire.Net
"Tony the Car Guy" is an automotive writer, editor and publisher in the San Francisco Bay Area. If you have a question or comment for Tony send it to TonyLeo@pacbell.net or visit AutoWire.Net at www.autowire.net - And remember: " You Are What You Drive © "

Column Name: An efficient alternative to luxury SUVs
Topic: The 2012 GMC Acadia Denali
Word Count: 886
Photo Caption: The 2012 GMC Acadia Denali
Photo Credits: GMC Acadia Internet Media
Series #: 2011- 30
Download the Microsoft Word version here: 2012 GMC Acadia Denali
Download the Original Image File here: 2012 GMC Acadia Denali