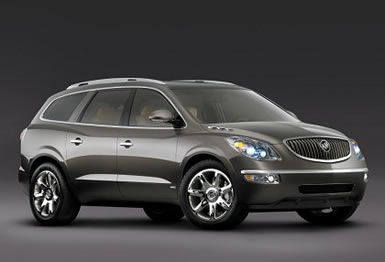 The 2012 Buick Enclave AWD Premium Review: Minivans are among the most practical vehicles ever sold. They're perfect for families. Unfortunately, they're also kind of ugly, and come with that "soccer mom" stigma. Buick, it seems, has found the perfect solution for this problem with the Enclave, a luxurious crossover vehicle that's nearly as practical as a minivan, and about as pretty as a big, family-friendly vehicle can be.
Inside, it has a roomy, three-row seating layout that mimics the brilliant floor plan of a minivan, but outside it looks completely different. It has a feline look, with sculpted curves and a more rounded shape.
Buick has done a good job avoiding the minivan driving feeling too, by utilizing a supple suspension and lots of sound-deadening materials to make it float in silence, like a traditional American luxury car. It's not sporty in the slightest. And that's a good thing for people who just want a comfortable car for long road trips.
The Enclave is only available with one engine, a relatively efficient 3.6-liter V6 that makes 288 horsepower. It's rated for 24 miles per gallon on the highway, which is better than average for big, eight-passenger vehicles in this class.
The most remarkable thing about the Enclave is just how luxurious it is. General Motors has done a great job reviving the Buick brand with nicer cabins that come close to what you would expect in a Cadillac.
Unfortunately, it can also come with a Cadillac-like price. I got sticker shock when I saw the price of my test vehicle, over $51,000, which makes it the only Buick I've ever driven that costs more than my first house.
Granted, for that price the Enclave came with every luxury gadget under the sun, from navigation and two sunroofs, to a DVD player and Bose stereo system.
In a lot of ways, the loaded Enclave reminds me of the Cadillac Escalade, which starts over $63,000. The base Escalade lacks some of those gadgets and gets far worse gas mileage, so it starts to make the $51,000 super-loaded Buick seem like a bargain. And you can also get a much more affordable Enclave. They start at under $36,000.
There are no major changes for the 2012 Enclave, probably because it doesn't need them. It still feels like a relatively fresh vehicle design from behind the wheel with a solid, quiet, well-built chassis.
As a whole, I like the Enclave because it's such a rare bird. Too many car companies are trying to make their big crossover vehicles feel sporty, which doesn't make sense.
People buy crossovers because they're comfortable, spacious and practical for families, and this big Buick is among the best on the market for those three things.
What was tested? The 2012 Buick Enclave AWD Premium with a base price of $45,080. Options on the test car are: The paint upgrade package for $395, 20-inch wheels for $300, the entertainment and navigation systems for $3,185 and the power sunroof for $1,400. The total MSRP price as tested including the $810 destination charge came to: $51,365.
Why avoid it? It can get awfully expensive for the high-end versions. A loaded Enclave costs more than $51,000, which is getting close to a full-blown luxury price tag.
Why buy it? It's an efficient alternative to luxury SUVs. It has the quiet, smooth driving feel of a traditional American luxury car with seating for eight. It's as practical as a minivan, but looks and drives much better.
By Derek Price © AutoWire.Net - San Francisco
The 2012 Buick Enclave AWD Premium Bottom Line Review provided by:
Tony Leopardo © AutoWire.Net
The Bottom Line: The 2012 Buick Enclave AWD Premium doesn't have any major changes for the 2012 model year, and it doesn't need them, as it still feels like a freshly designed vehicle. The Enclave has three rows of seats and a huge cargo area, very similar to the space and practicality you would find in a minivan. The Big Buick offers traditional American luxury for eight passengers, but at a much lower price, so you should "Drive one, Buy one, Today ©"
Bottom Line Review provided by: Tony Leopardo © AutoWire.Net
"Tony the Car Guy" is an automotive writer, editor and publisher in the San Francisco Bay Area. If you have a question or comment for Tony send it to TonyLeo@pacbell.net or visit AutoWire.Net at www.autowire.net - And remember: " You Are What You Drive © "

Column Name: Enclave is spacious, practical and comfortable
Topic: The 2012 Buick Enclave AWD Premium
Word Count: 797
Photo Caption: The 2012 Buick Enclave AWD Premium
Photo Credits: Buick Enclave Internet Media
Series #: 2011- 31
Download the Microsoft Word version here: 2012 Buick Enclave
Download the Original Image File here: 2012 Buick Enclave