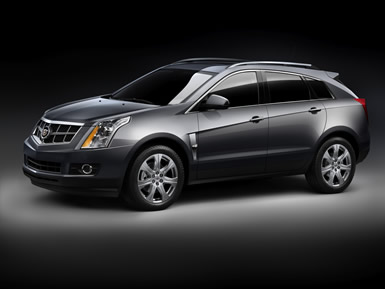 The 2012 Cadillac SRX Premium Collection Review: Whenever I've driven big Cadillac's in the past, I've always felt that Cadillac doesn't actually make their own engines. They steal them from tugboats and fill them full of thick, lumpy, cream gravy. That's how a Cadillac V8 feels, heavy, muscular and slightly blue collar, but also nice and smooth for wafting Grandma down the highway in silence. It was a weird feeling, then, to drive the 2012 Cadillac SRX and discover an engine that was stolen from a sports car, not a tugboat.
The new engine makes V8-like horsepower numbers, 308 horses, in fact, but it's not a V8 at all. It's a direct-injected V6 that is a huge departure from the kind of engines Cadillac used to put in its big cars. And that's a good thing.
Cadillac has used a similar engine in the CTS sports sedan to great acclaim in recent years, but putting it into a heavy crossover, like the SRX is a first.
It creates a totally different feeling in the SRX, more nimble, more responsive, more free revving, to give it a sportier personality than before. It feels more like a motorcycle engine than a traditional Caddy powerplant, like it wants to be revved high rather than groaning under the stress of a lead-footed driver like the older engine did.
It's also surprisingly efficient for an engine that makes that much power. It's rated for 24 miles per gallon on the highway and 17 in town, not exactly Earth-friendly numbers, but very good for something so big, heavy and powerful.
In fact, the SRX is making a strong case for luxury buyers to switch away from the bigger, more expensive Escalade, which is legendary for its thirst.
I drove a completely luxed-up, maxed-out SRX for a week and was surprised at just how Escalade-like it was. Even though it's smaller and not built on a truck frame, it feels ridiculously spacious inside, and all the gadgets made it seem more like an exclusive luxury car rather than a family-friendly crossover.
It had two screens for the back-seat passengers to watch movies, for example, and a massive sunroof that extends across almost the entire length of the vehicle. It's feels like driving around in the Cowboys Stadium.
The big downside is that it only has two rows of seats. If you want the ultimate road-trip vehicle for a family, you're still going to drool over the Escalade.
And truthfully, if you want something sportier, you'd be better off with the spectacular CTS Sport Wagon. It has jaw-dropping handling and almost as much practicality as the SRX.
As a whole, the SRX is a cross between those two cars, like the offspring of an Escalade and CTS. It has the spacious, luxurious, in-your-face attitude of the Escalade, but it inherits the sportiness and athleticism of the CTS sports sedan. The new engine just makes it all the more appealing.
What was tested? The 2012 Cadillac SRX FWD Premium Collection with a base price of $45,975. Options on the test car are: The Dual-screen entertainment system for $1,395 and black ice metallic paint for $495. The total MSRP price as tested including the $875 destination charge came to: $48,740.
Why avoid it? The CTS Sport Wagon is more fun to drive and almost as practical.
Why buy it? The new engine is a big improvement. It feels like it belongs in a sports car, and it just sounds fantastic.
By Derek Price © AutoWire.Net - San Francisco
The 2012 Cadillac SRX Premium Collection Bottom Line Review provided by: Tony Leopardo © AutoWire.Net
The Bottom Line: The 2012 Cadillac SRX is now available with a direct-injected V6 engine that makes 308 horsepower. Plus the quality interior materials continue to be a high point in the SRX. It's has a very classy and sumptuous cabin, that feels well-built, with a the price that is under $50K, so you should "Drive one, Buy one, Today ©"
Bottom Line Review provided by: Tony Leopardo © AutoWire.Net
"Tony the Car Guy" is an automotive writer, editor and publisher in the San Francisco Bay Area. If you have a question or comment for Tony send it to TonyLeo@pacbell.net or visit AutoWire.Net at www.autowire.net - And remember: " You Are What You Drive © "

Column Name: Big SRX crossover gets sporty, powerful V6
Topic: The 2012 Cadillac SRX Premium Collection
Word Count: 774
Photo Caption: The 2012 Cadillac SRX Premium Collection
Photo Credits: Cadillac SRX Internet Media
Series #: 2011- 32
Download the Microsoft Word version here: 2012 Cadillac SRX
Download the Original Image File here: 2012 Cadillac SRX