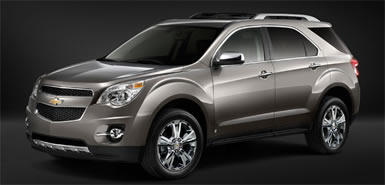 The 2012 Chevrolet Equinox LTZ Review: The Chevy Equinox was a knockout when it was introduced two years ago. It was a good-looking, five-seat crossover vehicle with all the best attributes of the "new GM" cars that have been launched in the past couple of years. It had a dramatically nicer, quieter cabin and better driving feel than GM vehicles of old.
Two years is a long time for a crossover, though. New cars are being introduced in this segment all the time, including the stalwarts from Honda and Toyota and increasingly awesome competitors from Kia and Hyundai.
That means that while the Equinox is as good a car as ever, it doesn't stand out as much as it did when it was first introduced. There are just too many great options to make it an easy choice. The Equinox gets some changes for 2012 that keep it at the front of the pack in terms of value.
One of the most notable changes is the availability of some high-tech safety features called forward collision alert and lane departure warning for just $295. Both of these systems were only available on luxury cars a few years ago, and precious few of them, so it's good to see them filter down to the more bargain-priced Chevy brand.
Forward collision alert gives the driver a warning, with flashing lights and sounds, if a sensor detects that you might be in a wreck soon. A camera scans the road in front of you for other cars, and if you're not paying attention at the time, it tries to grab your attention so you react faster.
During my week behind the wheel of a new Equinox, the system only went off one time when a genius driver pulled out in front of me. Luckily I was paying attention at the time, but if I was distracted it could have actually helped avoid a wreck. It's like a second set of eyes.
Drivers can turn the alerts on and off and also set the distances for when the warnings should sound. That's a smart way to keep the system from getting annoying if it was too sensitive. The other system, lane departure warning, gives you an alert when you start to veer out of your lane. Again, it's great for catching the attention of distracted drivers.
Chevy also makes some changes to the 2012 Equinox to make it a better value. Bluetooth phone connectivity is now standard on every single model, and the rear-view camera is now standard on 1LT models.
There are no changes to the drivetrain, even as Ford puts an EcoBoost engine in the Flex, and other crossovers focus increasingly on efficiency.
The Equinox was one of the first crossovers to get 32 mpg on the highway, and it remains one of the most efficient on the market if you opt for the four-cylinder engine. You can also get it with a 3.0-liter V6 if you want more power.
Even though it's not a thorough refresh this year, the Equniox still has one of the nicer driving feel among everyman crossovers. It's a good combination of sportiness and comfort, not overly soft, and not overly firm. to give the driver confidence in curves without being too bumpy on the highway.
It's not a particularly fast crossover, even with the V6, but I've never been a fan of sporty crossovers anyway. If you want something exciting, drive a different kind of car.
The Equinox is all about practicality, as it should be. It doesn't offer a third-row seat, you can get a Traverse if you need that, but it does have a surprisingly big cargo area in back. It functions more like an SUV than a compact crossover because of that. It also has a more spacious back seat than many crossovers, making it comfortable enough for adults to sit back there.
All in all, it's still a strong pick, even after two years of shiny new competitors nipping at its heels. All the impressive choices, from American, Japanese and Korean brands alike, make this a great time to be a crossover buyer.
What was tested? The 2012 Chevrolet Equinox FWD LTZ with a base price of $29,140. Options on the test car are: The V6 engine for $1,500, 18-inch wheels for $1,000, the navigation system for $795 and the collision alert system for $295. The total MSRP price as tested including the $810 destination charge came to: $33,540.
Why avoid it? It doesn't have a third-row seat, and other brands, especially the Korean ones, have introduced impressive new crossovers lately. It's no longer the easy choice in this segment.
Why buy it? For 2012, it offers high-tech safety features at a very affordable price. It's also still a solid, efficient choice in an ultra-competitive marketplace. By Derek Price © AutoWire.Net - San Francisco
The 2012 Chevrolet Equinox LTZ Bottom Line Review provided by:
Tony Leopardo © AutoWire.Net
The Bottom Line: The 2012 Chevrolet Equinox's body may look the same for 2012, but now it's available with a noteworthy change: a high-tech collision avoidance system for just $295. It's a very affordable option that was recently only available on luxury cars. It's a camera and lane sensor system that looks for cars in front of you and alerts the driver. Plus the Equinox has a bigger cargo area than most five-seat crossover vehicles in it's class, and it's comparable to what you would usually expect to see in a much bigger SUV, so you should "Drive one, Buy one, Today ©"
Bottom Line Review provided by: Tony Leopardo © AutoWire.Net
"Tony the Car Guy" is an automotive writer, editor and publisher in the San Francisco Bay Area. If you have a question or comment for Tony send it to TonyLeo@pacbell.net or visit AutoWire.Net at www.autowire.net - And remember: " You Are What You Drive © "

Column Name: Equniox gets new safety tech system
Topic: The 2012 Chevrolet Equinox LTZ
Word Count: xxx
Photo Caption: The 2012 Chevrolet Equinox LTZ
Photo Credits: Chevrolet Equinox Internet Media
Series #: 2011- 33
Download the Microsoft Word version here: 2012 Chevy Equinox
Download the Original Image File here: 2012 Chevy Equinox