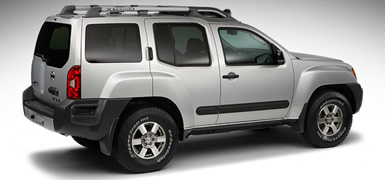 The 2012 Nissan Xterra PRO-4X Review: Most families want a quiet, comfortable, spacious car for driving down the road, which is exactly why crossover vehicles have become so popular. A smaller number of people, though, prefer capability over practicality, and that's why the Nissan Xterra exists.
The Xterra, unlike those popular crossovers, is engineered specifically for off-road driving. It's built like a truck, with a body that rides on top of a heavy, rigid frame, which hurts gas mileage, but helps it survive a beating on the trails.
In many ways, it's like a Japanese Jeep. You can get it with four-wheel drive and a rugged off-road package called PRO-4X, complete with protective skid plates and beefy Bilstein gas shocks, that make it feel even more bouncy and Jeep-like.
Let's make one thing clear, though: the Xterra is not for everybody. If your idea of adventure is a trip to the mall, you'll be much better served with a crossover vehicle that gets better gas mileage and has a more refined driving feel on pavement. But if you do serious off-road driving, the Xterra should be on your shopping list.
It comes with a 4.0-liter V6 engine with a throaty exhaust note that sounds more like a V8, making 261 horsepower and 281 pound-feet of torque in the process. The interior is standard Nissan fare; two rows of seats and good build quality.
The cargo space, though, is exceptionally roomy and smart. It has moveable tie-down hooks that slide along grooves in the floor, for example, and the whole cargo area is made from a hard, tough plastic that Nissan dubs "Easy Clean." It really is easy to wipe down, and keep clean.
While the Xterra is meant to shine out in the wild, Nissan does make some concessions to comfort. One is a quiet cabin. It's much quieter than a Jeep Wrangler, and other Jeep models, for that matter, although still not as silent as an average crossover vehicle.
You can also get it with modern amenities such as a 300-watt Rockford Fosgate stereo system and a Bluetooth connection for your mobile phone.
The body style is straightforward and utilitarian, an aggressive box-shaped SUV straight out of the 1990s, with one exception: the Xterra's cargo door has a notable bulge where a first aid kit can fit.
As a whole, the Xterra feels like a relic from the era of 4x4, go-anywhere SUVs when the rest of the world has moved on to more practical and car-like crossover vehicles. But it also fills an important niche for people who need serious capability, mud-slinging, mountain-climbing, trail-beating ability, that can take a family anywhere they need to go in a pinch.
What was tested? The 2012 Nissan Xterra PRO-4X fitted with automatic transmission has a base price of $31,020. Only options on the test SUV: Carpeted floor mats for $120. Total MSRP price as tested, including the $810 destination charge, came to: $31,950.
Why avoid it? The four-wheel-drive version is only rated for 15 mpg in town, and crossover vehicles do a much better job driving on pavement.
Why buy it? It's a true off-road vehicle, something that is becoming increasingly scarce today. It looks rugged and has a relatively quiet cabin.
By Derek Price © AutoWire.Net - San Francisco
The 2012 Nissan Xterra PRO-4X Bottom Line Review provided by:
Tony Leopardo © AutoWire.Net
The Bottom Line: The Nissan Xterra looks, and feels, like an aggressive off-road machine. It has a functional shape and high ride height to help it maneuver on trails, and is still designed for the wild. A 300-watt Rockford Fosgate stereo system and Bluetooth connection for mobile phones are two of the concessions to modernity available in the Xterra. These are all good reason for you to "Drive one, Buy one, Today ©"
Bottom Line Review provided by: Tony Leopardo © AutoWire.Net
"Tony the Car Guy" is an automotive writer, editor and publisher in the San Francisco Bay Area. If you have a question or comment for Tony send it to TonyLeo@pacbell.net or visit AutoWire.Net at www.autowire.net - And remember: " You Are What You Drive ©"

Column Name: Nissan's off-road survivor
Topic: The 2012 Nissan Xterra PRO-4X
Word Count: 735
Photo Caption: The 2012 Nissan Xterra PRO-4X
Photo Credits: Nissan Xterra Internet Media
Series #: 2012- 03
Download the Microsoft Word version here: 2012 Nissan Xterra PRO-4X
Download the Original Image File here: 2012 Nissan Xterra PRO-4X