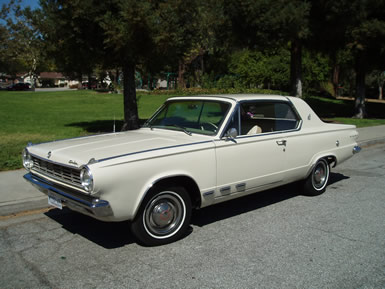 The 1965 Dodge Dart Review: With the all-new, Alfa-Romeo-based 2013 Dodge Dart out and on the road, it felt like a good time to test the original Dodge Dart. Luckily for me, I have a friend, Elena, who owns a beautiful example of the first compact Dart, a glorious and powerful 1965 Dart GT. She let me drive and photograph it on a recent summer day. She then sat down to tell me why she bought it.
I have personal connections to the Dart, as my mother had one back in the late 1960's. Our 1966 baby blue Dart convertible was a fine cruiser, with its durable slant-six engine, three-on-the-tree manual transmission and a power top. We also had a 1966 Plymouth Valiant before that, a close Chrysler cousin to the Dart, and the car in which I passed my driver's test, on the first try!
The original 1960 Dart was a full-size car, but it became a midsize in 1962 for one year before taking the place of the original Dodge compact, the Lancer, in 1963. It remained a popular vehicle, in sedan, coupe and wagon form, until the Dodge Aspen replaced it in 1976. The latter car proved to be a disappointment. Until the 2013 Dart arrived, the compact position at Dodge has been a tough job, filled by the famous "K car" Aries in the 1980's and others such as the late, unlamented Neon and Caliber.
Elena's '65 GT is a fine driver, looking great from 15 feet. It has not been meticulously restored, and shows minimal changes since its birth during the Johnson Administration. Presumably a repaint, it still looks authentic inside and out. A compact car in its day, it is safely midsize by today's reckoning, and when you're sitting on the big bench seat inside, it feels like a huge car. I figured out why.
Besides the gentle rocking motion of the old-fashioned and simply old suspension, I could see the entire hood, and it was as big as a pool table out in front of me through the windshield. The uplevel GT model has chrome trim along the fenders ending in a tiny fin at the corner. Today's more aerodynamic cars, for the most part, show you nothing ahead of the windshield.
Grab the chrome door handle and swing open the heavy metal door. Then, you'll see mid-sixties design in all its glory. With the more fanciful, swoopy 1950's relegated to the past, the sixties cars showed more restraint, especially Chrysler, where designer Elwood Engel, known for the early 60's Lincoln when he worked for Ford, brought a rectangular Danish Modern effect. The silvery, flat dash features separate rectangles for the auxiliary gauges and a flat glovebox door. The gauges included a gas gauge but also a temperature and alternator gauge. Today's cars feature "idiot lights." The look isn't flashy, but it's easy to live with and durable.
The steering wheel is big, thin, and hard, and wears a chrome horn ring in its center. No airbags here. In fact, this '65 doesn't even have shoulder belts. The seatbelts fasten like those in today's airplanes. What a nostalgic moment to reach back and find … nothing. There are no neck-saving headrests on the seats, either. You are at much greater risk cruising in this tank.
This is the 1960's. I found small ashtrays in both front armrests and in the center console. They had not been used recently. The dash-mounted lighter remained, today's cars supply them to power portable electronic devices, such as navigation systems. And, of course, there were manual crank windows, even in the top-level Dart, but what a feeling.
The Dart GT, as the sporty model, features a floor-mounted automatic transmission lever and under the hood, a 273 cubic inch (4.5 liter) V8 engine, good for 180 horsepower with a two-barrel carburetor. A more powerful V8, good for 235 horsepower, was also available starting in 1965. The highly regarded and reliable slant six in the lower level 170 and 270 series generated either 101 or 145 horsepower, depending on whether you ordered the extra-cost version for $50 more.
This engine in my test car was recently steam cleaned and it looks sharp with its clean, spacious layout freed of today's electronics and smog management technology.
After I stepped in to drive the car and buckled up, I inserted and turned the tiny metal key. Its main part is shaped like the Chrysler Pentastar, and I remember it from our old family cars. Car keys used to look like your house key before they became the large black plastic electronic gadgets they are today.
The Dart started right up and off we went. With the V8, there was plenty of power, but it sounded much different from recent V8s I've driven. The ancient brakes were effective but you had to really press the pedal. I'm guessing they were drums and not discs. Of course there is no antilock or other high tech assistance available.
The Dart was meant to give Americans comfort and familiarity in a smaller, but not tiny, package, so the car drives much like a full-size Dodge Polara would, meaning it floats a bit, noticeably upon starting, stopping and turning, in other words, most of your driving time. Once the engine warmed up, though I heard very little as we zipped around Elena's suburban neighborhood and took a quick trip on the freeway. Cruising is this car's strong suit, and I'd gladly do so again.
So, why does a person want to drive a nearly 50-year-old car? And why this one? Elena told me she had owned a 1967 VW Bus and had a boyfriend who had a 1960 Corvette, so she fancied some kind of collectible car.
She found the Dart locally on Craigslist. Why a Dart? "It picked me," she says. She liked the looks and the handsome, original interior. And apparently the owner had cared for it pretty well. She has had the Dart for only a short time, but has had no significant problems with it at all.
That being said, as we returned to Elena's house, a man in a Chrysler PT Cruiser waved to us. We rolled down the window and he said, "Your brake lights aren't working." It's always something, but the charm of old vehicle ownership seems immune to the pains of maintenance, as long as you can drive and enjoy the car.
By Steve Schaefer © AutoWire.Net - San Francisco
The Bottom Line: The 1965 Dodge Dart was Chrysler's answer to the Ford Falcon and Chevy Corvair's of the time. When cars were simple and to the point of being nice, dependable transportation for a reasonably price. A car that you could buy for around $2,000 and know that the service and upkeep would be of minimal costs, and it would last for years and years.
Enough so that the Dodge Darts and Plymouth Valiants of this era would be passed down as the next first car from generation to generation. And old Dodge Darts just seemed to last forever, with a little help from Grandpa and the local mechanic. Simple cars in a simpler time, and a great car today for a car collector who enjoys a little nostalgia without breaking the bank. And maybe, just for that one reason, you should "Drive one, Buy one, Today ©" Bottom Line Review provided by: Tony Leopardo © AutoWire.Net
The 1965 Dodge Dart Bottom Line Review provided by: Tony Leopardo © AutoWire.Net - "Tony the Car Guy" is an automotive writer, editor and publisher in the San Francisco Bay Area. If you have a question or comment for Tony send it to TonyLeo@pacbell.net or visit AutoWire.Net at www.autowire.net - And remember: " You Are What You Drive©"

Column Name: A great car today for a car collector
Topic: The 1965 Dodge Dart GT
Word Count: 1,352
Photo Caption: The 1965 Dodge Dart GT
Photo Credits: Steve Schaefer
Series #: 2012 - 35
Download the Microsoft Word version here: 1965 Dodge Dart GT
Download the Original Image File here: 1965 Dodge Dart GT