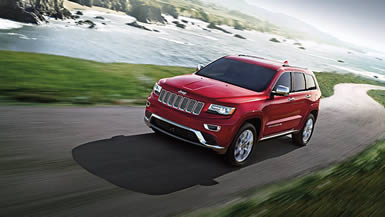 The 2014 Jeep Grand Cherokee SRT Review: The Jeep Grand Cherokee has been a popular choice for comfortable on-and-off road motoring for more than two decades. Built since day one in Detroit for American tastes, it has been refined and expanded over the years as one of Chrysler's big success stories.
I got a chance to spend a week with the uber-Grand Cherokee SRT recently.
SRT, which stands for Street and Racing Technology, is a group within Chrysler that creates super fast versions of cars such as the Viper sports car, Chrysler 300 SRT, Dodge Challenger SRT and Dodge Charger SRT.
In this case, the already formidably sized and shaped Jeep SUV receives a monster 6.4 liter Hemi V8 under the hood that grunts out a hefty 470 horsepower and 465 lb.-ft. of torque. Regular Grand Cherokees offer lesser power plants, including the 3.6-liter V6 that's likely to be under the chiseled hood of most of them. It has "only" 290 horsepower.
The Grand Cherokee SRT shoots down the road like a rocket, and even comes with a Launch Control button and a set of Performance Pages on its 8.4-inch dash screen, so you can drive like a professional driver, bringing engine, transmission, driveline, stability control, and suspension in line for a launch worthy of a racetrack. I regret that I didn't get to use it in my week of commuting and errand running.
The 8.4-inch screen also gives you access to Uconnect Access Via Mobile, an all-new feature that lets you stream your favorite music into the car using Aha, iHeart, Pandora or Slacker. You also get access to Bing Internet searches and can even use voice texting, something that I didn't get a chance to try out, but I imagine is a big selling point for those who simply must communicate at every waking moment.
The SRT's instrument panel features a 180-mph speedometer, and this feels like a car that can use most of that. You can get readouts for ongoing miles-per-gallon, instant MPG, distance to empty DTE, and other digital trip information too.
The SRT is loaded with anything you'd want in a luxury high-performance vehicle. The interior has been upgraded for materials, design and access. The leather seats are extra luxurious and comfortable and fully adjustable. I noted true carbon fiber trim, an expensive and exclusive material that is often replicated, but rarely provided.
The T-handle shifter this year is attached to a new eight-speed automatic transmission that uses all the brains in the car's computer to provide exactly the right gear for whatever conditions you're in. And if you still want to manually shift, just use the redesigned steering column-paddles.
The body of this massive projectile has been tweaked for 2014 from an already highly esteemed design. I was surprised to see massive vents in the hood, it probably needs them, and the slimmed-down headlamps and tail lamps are surrounded by black for a "floating" look. The roof spoiler has been reconfigured and helps to move the air out of the way. In Dark Cherry
Red, with massive 20-inch alloy wheels wearing Pirelli PZero tires, my test car stood out.
Naturally, with this large of an engine, the fuel economy is not something to brag about to your ecologically minded neighbors, at 13 City, 19 Highway, and 15 Combined. I achieved exactly 15 mpg during my week. The EPA's Smog score is a 5 but Greenhouse Gas is just a 2.
The Grand Cherokee SRT comes with a refined version of the Selec-Track transfer case system, accessible with a console-mounted dial. There are five dynamic modes: Auto, Sport, Tow, Track, and Snow, which let you choose the vehicle setting that most ideally meets your needs and ambient road conditions.
The Parksense feature lets you know what's around you when you're navigating the urban jungle. With a car this big it's good to be extra aware. With screen images and sounds, you're much less likely to run into anything, or anyone, with this electronic assistant.
Prices for the 2014 Jeep Grand Cherokee SRT start at $63,990, including destination charges. My tester came to $69,470. The entry point for Grand Cherokee ownership is the two-wheel-drive Laredo at $29,590, and it works its way up from there.
There is a 3.0-liter EcoDiesel option now that puts out 240 horsepower and an astounding 420 lb.-ft. of torque. The SRT model is a halo vehicle for the Jeep brand, and in that role, is a perfect blend of sports car and people & gear hauler, with all the trimmings. And it's got a Hemi!
I'm not sure it would be my choice of a daily commuter with those mileage and price numbers, but there's no question that the Grand Cherokee SRT makes a big impression, and competes successfully with the heavy hitters, such as Mercedes-Benz and BMW, for the luxury SUV buyer.
By Steve Schaefer © AutoWire.Net - San Francisco
The Bottom Line: The 2014 Jeep Grand Cherokee SRT is one of the fastest SUVs on the planet, with all the luxury features you would expect in a vehicle in this class, as it comes standard with Hemi Power, Leather Interior, Carbon Fiber, on-board Electronics and an adjustable Select Trac transfer case for all terrains. Plus the Jeep SRT looks just as great at the local country club as it does on the Rubicon Trail. And maybe, just for that reason alone, you should "Drive one, Buy one, Today ©"
Bottom Line Review provided by: Tony Leopardo © AutoWire.Net
The 2014 Jeep Grand Cherokee SRT Bottom Line Review provided by: Tony Leopardo © AutoWire.Net - "Tony the Car Guy" is an automotive writer, editor and publisher in the San Francisco Bay Area. If you have a question or comment for Tony send it to TonyLeo@pacbell.net or visit AutoWire.Net at www.autowire.net - And remember: " You Are What You Drive©"

Column Name: Built since day one in Detroit for American tastes
Topic: The 2014 Jeep Grand Cherokee SRT
Word Count: 1,043
Photo Caption: The 2014 Jeep Grand Cherokee SRT
Photo Credits: Jeep Grand Cherokee SRT Internet MediaSeries #: 2013 - 15
Download the Microsoft Word version here: 2014 Jeep Grand Cherokee SRT
Download the Original Image File here: 2014 Jeep Grand Cherokee SRT