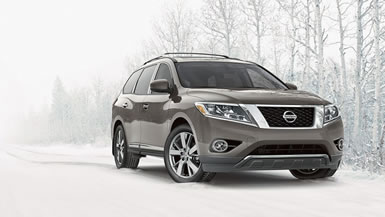 The 2013 Nissan Pathfinder Review: As an answer to Ford's Explorer, the original Pathfinder, based on Nissan's successful pickup truck, moved people with sport and utility. Now, more than 25 years later, the fourth generation of 2013 jettisons its truck platform for a unibody and becomes a crossover, and the timing is right.
The Pathfinder feels large, certainly heftier than the debut model. Nissan's new styling exchanges the angularity of truck-based SUVs for the sculpted lines of the Altima and Maxima sedans. Up front gleams a wide chrome grille, unapologetically retro, and the roof wears a handy rack.
The new model drops around 500 pounds compared the old one, so it does just fine with a 3.5-liter V6, a lighter, more efficient engine that puts out only six fewer horsepower than the 4.0-liter V6 it replaces.
My Arctic Blue Metallic tester had the optional crossbars, making the rack useful and not just jaunty. My 4,471-pound tester moved graciously with the 3.5-liter V6. Nissan's XTRONIC continuously variable automatic transmission works with the car's computer to calculate exactly which ratio will work best for cruising, climbing, or accelerating.
The EPA ratings are 19 City, 25 Highway and 21 Combined for the four-wheel-drive model (add 1 mpg for the two-wheel-drive version). I averaged 17.4 mpg in my week of travels. The EPA's environmental ratings are 5 for Greenhouse Gas and for Smog, too.
If you have any plans of going offroad, there's the 4X4i intuitive four-wheel-drive system. You can pick two-wheel drive for efficient travel under normal conditions. Set it to Auto mode and let the computer decide when four-wheel traction is needed, or, for serious climbing or low-traction conditions, lock it into full-time four-wheel drive. Just turn a knob on the center console.
Crossover SUVs are the full-size station wagons of today. Now, of course, you take your lifestyle and gadgets with you, and my top-level Platinum tester had the Platinum Premium Package for $2,300. The front-seat headrests contained screens for the second- and third-row folks to view videos. Included are two pairs of wireless headsets and a wireless remote for all the comforts of home.
The Pathfinder offers three-row seating. My full-grown, six-foot-tall son reported that the second row accommodations had plenty of legroom, but that the bottom cushion felt too low. The third row is easy to access, because the middle row folds and slides out of the way, thanks to Nissan's EZ Flex Seating System.
My tester, loaded with everything imaginable, included Nissan's AroundView Monitor. It not only displays what's behind you when you're backing up, but also shows you a bird's eye image of your car! You can see the cars parked next to you and anything else, including children, Big Wheels, pets, and planter boxes. It's almost impossible to run into, or over something, when you're driving this car.
I commuted in the Pathfinder, so I got very familiar with the interior. There are good sight lines, a pleasant, light-filled Almond space with soft-looking dash and doors (made of hard plastic), and handsomely integrated and trimmed door handles. The chrome-in-silver settings looked posh. It sounds like a bad stereotype, but this new Pathfinder's interior feels more feminine.
There's a good chance that the driver will be female, a mom or just an adventurous woman with lots of friends, but there's not much left that's truckish there.
Pathfinders come in four ascending levels: S, SV, SL, and Platinum. No car leaves the factory these days "stripped," but I know that my Platinum model was the top dog. If your interests are in moving people and gear, you don't need more than the S. It has a urethane steering wheel, as the other models get leather. There's no Bluetooth. The seats are cloth in the S and SV, not leather. No satellite radio in the S. It doesn't get much in the way of option packages either. But the Platinum is loaded, from its 20-inch alloy wheels on up.
Maybe "stripped" has taken on a new meaning today. Every car has air conditioning, power windows, power locks and mirrors and some kind of audio system these days. I'm guessing that they don't sell that many S models, with so many modern conveniences like Bluetooth missing, but the price is surely a factor, both for affordability and for advertising.
The Pathfinder S model starts at only $28,650. All four models offer two- or four-wheel drive, so the top model is the four-wheel-drive Platinum, like my test car, at $41,150. With options my test car came to $44,395 with its extra packages and shipping.
That puts the Pathfinder in plenty of company. Built in Smyrna, Tennessee, it's big, comfy, attractive, and wears the latest styling. Nissan has every reason to expect further success. I just wish it could get more than 18 miles per gallon. By Steve Schaefer © AutoWire.Net - San Francisco
The Bottom Line: The 2013 Nissan Pathfinder is all new with a unibody platform, and becomes a crossover. Crossover SUVs are the full-size station wagons of today. With 4 trim levels, S, SV, SL, and Platinum to chose from, and price points that start at $28,650 and go up to over $40K, there is a Nissan Pathfinder for just about everybody. And with 2-wheel drive, 4-wheel drive, All-wheel drive or Full-wheel drive Pathfinder can go from street to trail at the twist of a knob. This new model is the best one yet, and maybe, just for that reason alone, you should "Drive one, Buy one, Today ©" Bottom Line Review provided by: Tony Leopardo © AutoWire.Net
The 2013 Nissan Pathfinder Bottom Line Review provided by: Tony Leopardo © AutoWire.Net - "Tony the Car Guy" is an automotive writer, editor and publisher in the San Francisco Bay Area. If you have a question or comment for Tony send it to TonyLeo@pacbell.net or visit AutoWire.Net at www.autowire.net - And remember: " You Are What You Drive © "

Column Name: Crossover SUVs are the full-size station wagons of today
Topic: The 2013 Nissan Pathfinder
Word Count: 1,043
Photo Caption: The 2013 Nissan Pathfinder
Photo Credits: Nissan Pathfinder Internet MediaSeries #: 2013 - 16
Download the Microsoft Word version here: 2013 Nissan Pathfinder
Download the Original Image File here: 2013 Nissan Pathfinder