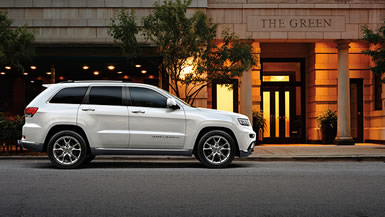 The 2014 Jeep Grand Cherokee Diesel Review: The Grand Cherokee is Jeep's best-selling vehicle. Positioned as a heart-of-the-market standard-sized SUV, it can be anything from a family wagon to a luxury off-roader. It has led Jeep to its most successful year ever in 2013.
For 2014, all Grand Cherokees are updated with slimmer new head and tail lamps and a reconfigured front fascia, while keeping the squared corners and seven-slat grille, which links it to its WWII Jeep ancestors.
Inside, numerous upgrades give it a more premium feel. My tester, with its swanky New Zealand Black and Light Frost interior, was a Limited model, the second level of four, from entry-point Laredo through Overland to Summit. However, this vehicle, with four major option groups, was much closer to the Summit than the Laredo.
My Granite Crystal Metallic tester came with the optional 3.0-liter ECO Diesel V6. Long gone are the days of searching for a station that sells Diesel fuel, and the sulfur smell is virtually gone. At the time of my test drive Diesel fuel was four cents a gallon less then premium gas, but prices do vary considerably.
Why Diesel? For one thing, it gets better fuel economy than a comparative gasoline-powered model. Jeep's 3.6-liter gas V6 has EPA numbers of 14 City, 20 Highway with four-wheel drive versus 21/28 for the Diesel. My tester, with four-wheel-drive, earned an EPA overall score of 24 miles per gallon; I achieved 24.2. With its larger fuel tank, you could easily drive 600-700 miles without a fill-up on trips. However, it carries a $4,500 price premium, so it will take a long time to make up the difference.
With its 240 horsepower and whopping 420 lb.-ft. of torque, the Diesel V-6 has the power of competing V8s from other manufacturers but fuel economy that's 43% better (per Jeep's figures). The power at low rpm levels has always amazed me with Diesels, and you can tow up to 7,400 pounds with this vehicle, too.
If you really want a V8, Jeep will gladly sell you their tried-and-true 5.7-liter Hemi motor. With 360 horsepower and 390 lb.-ft. of torque, it's burly, but fuel economy is about the same as the gas-powered V6.
All Jeep Cherokees use a new eight-speed automatic transmission. This wide range gives a nice low creeper gear for slow starts off-road, a staggering 44.1:1. But you also get a tall ratio 8th gear for relaxed and low-rpm highway cruising, which greatly improves fuel economy.
Now you can select from three different 4WD systems. Quadra-Trac I has a single speed transfer case and gives full-time all-wheel drive without touching a dial or a knob. Quadra-Trac II has a two-speed transfer case (including a low range) and uses sensors to detect tire slip, so it transfers torque to the wheels that need it. As the top choice, Quadra-Drive II includes a rear Electronic Limited-slip Differential and is so advanced that it can anticipate low traction and distribute torque in advance.
The Grand Cherokee can be a serious off-roader if you equip it that way. My tester had the Off-Road Adventure II package ($2,495), which includes the aforementioned Quadra-Drive II suspension, a Rear Load Leveling Suspension, and a variety of skid plates, shields and towing equipment. This earns the car the coveted Trail Rated badge.
You also get the Quadra-Lift Air Suspension. It provides a normal ride height, but also two off-road settings with an extra 1.3 or 2.6 inches of additional ground clearance. Conversely, you can use Park mode to lower the car 1.6 inches below normal ride height for easier entry and exit. Or, Aero Mode automatically lowers the Grand Cherokee .6 inches for reduced wind resistance at speed, which improves fuel economy.
Selec-Terrain lets you choose the kind of off-road traction control you want: Sand, Mud, Snow, Rock, or Auto. Sport Mode lets you adjust the shift points for a more exhilarating driving experience.
My 5,275-pound tester also had the Luxury Group II, with Nappa Leather trimmed seats that were ventilated in front, numerous exterior lighting enhancements, rain-sensitive wipers, and a huge dual-pane sunroof. The Uconnect system boasts a spacious 8.4 inch color screen, plus it connects all Bluetooth devices.
A Laredo, with two-wheel drive and the gasoline V6, starts at $30,190. My Limited 4x4, with options, came to $49,185. The MSRP for the Summit model, which includes most or all of my car's options, and some interior upgrades, starts at just $5 more than that.
By Steve Schaefer © AutoWire.Net - San Francisco
The Bottom Line: The 2014 Jeep Grand Cherokee has been built in Detroit, Michigan, since it debuted in 1992 as a 1993 model. The new Diesel engine comes from Italy (remember, Fiat owns Chrysler), and the fancy eight-speed transmission is German, but this is a very traditional American SUV to drive, on or off-road, and delivers a very satisfying experience for five. The 2014 Jeep Grand Cherokee Diesel now is the best SUV in it's class with more power, luxury, towing and technology all in one stylish package, and maybe that's why you should "Drive one, and Buy one, Today ©"
Bottom Line Review provided by: Tony Leopardo © AutoWire.Net
The 2014 Jeep Grand Cherokee Diesel Bottom Line Review provided by: Tony Leopardo © AutoWire.Net - "Tony the Car Guy" is an automotive writer, editor and publisher in the San Francisco Bay Area. If you have a question or comment for Tony send it to TonyLeo@pacbell.net or visit AutoWire.Net at www.autowire.net - And remember: " You Are What You Drive © "

Column Name: The best Jeep gets even better
Topic: The 2014 Jeep Grand Cherokee Diesel
Word Count: 981
Photo Caption: The 2014 Jeep Grand Cherokee Diesel
Photo Credits: Jeep Grand Cherokee Internet Media
Series #: 2014 - 03
Download the Microsoft Word version here: 2014 Jeep Grand Cherokee Diesel
Download the Original Image File here: 2014 Jeep Grand Cherokee Diesel