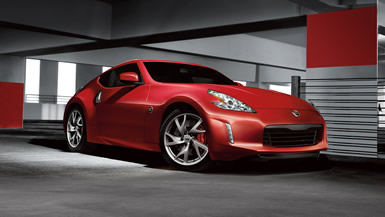 The 2014 Nissan 370Z NISMO Review: When you add NISMO to a Nissan vehicle, it means it's borrowing traits from the company's racing division, Nissan Motorsports. Applying this nomenclature, and the exciting improvements it brings, is especially welcome on a car that's already a sports car. It starts with the 3.7-liter V6 under the hood, which generates 350 horsepower and 276 lb.-ft. of torque through a six-speed manual, and the only gearbox offered. The transmission matches revs automatically, giving you a little exhaust "blip" that makes it sound like you're a real race car driver.
Nissan enhanced the engine two ways to give the NISMO more power than the standard 370Z. First, they used an H-configured exhaust design with muffler tuning, and then they tweaked the engine control module.
Under the car, the double-wishbone front/four-link rear suspension is tuned for NISMO duty with higher spring and stabilizer bar rates and increased roll stiffness. This setup was delightful traversing winding back roads, but on some patches of older freeway, it bounced me around like a bucking bronco.
The NISMO wheels are fat five-spoke, 19-inch RAYS alloy rims, 9.5 inches wide up front and 10.5-inches wide in the rear. They come shod in Bridgestone Potenza S001 Y-rated high performance tires (245/40ZR19 front, 285/35R19 rear). The NISMO brakes behind the gray wheels are 14-inch discs in front and 13.8 in the rear, with vented rotors.
Getting down to looks, the NISMO Z receives a load of extras. The dark gray front and rear fascias, side sills, mirrors and rear spoiler looked kind of badass on my white tester. The low front fascia looks cool, but you need to watch out when parking or driving over dips in the roadway. And all NISMO vehicles wear red pinstripe accents.
Inside there's the suede-like Alcantara steering wheel with its red "top dead center" stripe, and a smooth leather-wrapped shift knob and aluminum-covered pedals. The NISMO logo is on the sport cloth buckets for the driver and single passenger. There's even a little dash plaque with a unique 370Z serial number and the model year.
Driving a sports car back and forth to work on the freeway is challenging and not near as much fun as the open road can be. The shifter is firm and feels like metal, a good thing, but you'll be using it a lot in traffic. Starting out in first requires careful pedal modulation so you don't stall or lurch forward. You ride low in the car as it tops out at 4-foot, 3.8 inches, but you don't feel confined, and with the sweep of the dash, and its classic three gauges popping out of the top surface you have some room to breath.
This is no economy car. EPA numbers are not too bad, actually, for a big V6 and 3,346 pounds of mass, but the Combined mpg is 21 (18 City, 26 Highway). I averaged 19 mpg during my test week and premium fuel is required.
As it has for more than 40 years, the Z offers some practicality as a hatchback, but there is less than seven feet of cargo room back there, so a bass won't fit. There's room for groceries and soft luggage. The stylish silver strut tower brace keeps cargo from sliding and hitting you, but takes up some room. Immediately behind the seats are a couple of small shelves that are great for stashing a CD, laptop, or maybe a six-pack of beer.
The styling of this latest Z relates to its long history but is a product of today. The sharply drawn head and taillamps look like they were carved with an X-Acto knife. The side panel cut lines loop around front and rear, defining the crescent lamp forms. The low, rectangular grille is a Nissan sports car motif.
Prices start at a base price of $43,810, including shipping. For that you get a pretty loaded package, although the seats are cloth, not leather, and are manually adjustable (for lighter weight). You can add a sensational eight-speaker Bose Audio system (including two subwoofers) and illuminated threshold plates with a bright "Z." My tester also had a small rearview monitor mounted in the left third of the inside rearview mirror that was helpful when backing out. With these options the car came to a total MSRP price at $46,370. By Steve Schaefer © AutoWire.Net - San Francisco
The Bottom Line: The 2014 Nissan 370Z NISMO could be your midlife crisis car, and still make sense for daily living. It has non-exotic Nissan virtues beneath its racecar, high-performance styling. Overall this is a fun car to drive, and you can hardly go wrong with it, but getting in and out can be a challenge, and cargo space is minimal and completely exposed. Knowing these pluses and minuses, it may still be one of the best ways to live large, without overspending, or suffering buyer's remorse. And maybe, just for that reason alone, you should "Drive one, and Buy one, Today ©"
Bottom Line Review provided by: Tony Leopardo © AutoWire.Net
The 2014 Nissan 370Z NISMO Bottom Line Review provided by: Tony Leopardo © AutoWire.Net - "Tony the Car Guy" is an automotive writer, editor and publisher in the San Francisco Bay Area. If you have a question or comment for Tony send it to TonyLeo@pacbell.net or visit AutoWire.Net at www.autowire.net - And remember: " You Are What You Drive©"

Column Name: The 370Z NISMO could be your midlife crisis car
Topic: The 2014 Nissan 370Z NISMO
Word Count: 963
Photo Caption: The 2014 Nissan 370Z NISMO
Photo Credits: The Nissan 370Z Internet Media
Series #: 2014 - 13
Download the Microsoft Word version here: 2014 Nissan 370Z NISMO
Download the Original Image File here: 2014 Nissan 370Z NISMO