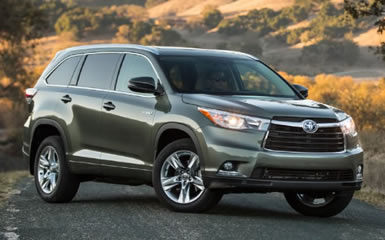 The 2014 Toyota Highlander Hybrid Review: Every once in a while I drive a Toyota that seems like it has the wrong badge on the hood. That's what happened this week while checking out the new Highlander, which was equipped, at least on my test car, with so many gadgets, so much high-end trim, and such a soft, smooth ride that I'd swear it was a Lexus.
Granted, my tester came with a very Lexus-like price of more than $50,000 for the exclusive sounding Hybrid Limited Platinum version. It costs a whopping $20,000 more than the base Highlander, and at that price, it darn well better feel like a luxury car.
Fortunately, it does. With supple, beautifully stitched trim on the dash, more leather and wood than a Scottish pub, and more electronics than an Intel factory, it looks and feels like something that belongs in a luxury-brand showroom.
It also comes with a hybrid drivetrain to save on fuel. It's rated for 28 mpg on the highway and an impressive 27 mpg in city driving, making it the most fuel efficient three-row SUV in its class.
Still, I think there are two things that ought to be improved on the hybrid version. The biggest is its braking feel, which seems a bit awkward and grabby, making it hard to slow down smoothly as the electric generator engages at low speeds. This is a common issue in hybrid cars, but it seems slightly more pronounced in the Highlander Hybrid than most.
I also wish Toyota offered a hybrid-powered Highlander at lower trim levels. The Highlander starts at $29,215 for the base LE trim, but you can't get the hybrid drivetrain unless you pony up $47,300 for the fancy Limited trim level, which defeats the purpose of buying a hybrid to save on fuel costs.
Still, for people who can afford it, and who want a luxury SUV that gets respectable gas mileage, which most don't, this one is spectacular. Between the electric motors and V6 engine, it makes 280 horsepower, enough to make it quietly, quickly rocket away from stoplights.
While my test car happened to be a loaded hybrid model, the entire Highlander lineup is new inside and out for 2014. It comes with a fresh design and more premium feel throughout the trim range.
Inside, it gets plenty of standard equipment including an LCD digital display in the gauge cluster, a touchscreen sound system, a Bluetooth wireless connection for your phone and a rear-view camera.
And the changes on the outside are just as dramatic, which is surprising from a typically conservative company like Toyota. Its swept-back headlights and bulging taillights give it a sleek, distinctive look, yet it still has some tough-guy swagger that fits its SUV roots.
The base Highlander comes with a 2.7-liter four-cylinder engine, but you don't want it. It makes just 185 horsepower and doesn't get very impressive gas mileage.
The engine you'll want is the 3.5-liter V6 that makes 270 horses and is rated for roughly the same gas mileage as the four-banger, just 1 mpg worse in city driving and the exact same rating on the highway, which makes me wonder why Toyota even offers the smaller engine.
You can get a V6-powered Highlander starting at $30,520, making it the no-brainer choice in my opinion.
As a whole, the new-for-2014 Highlander is a big improvement over the old one, which was already one of my favorite family-friendly SUVs. I just hope the guy who accidentally glued the wrong logo on the hood can keep his job.
What was tested? The 2014 Toyota Highlander Hybrid Limited Platinum for $49,790. Options on the car: Carpet floor mats and cargo mat for $225. The total MSRP price as tested including the $860 destination charge came to: $50,875
Engine: 3.5-liter, six-cylinder, double-overhead cam, 24-valve with Dual VVT-i (270 horsepower, 248 lbs.-ft.)
Transmission: 6-speed ECT automatic
Estimated Mileage: 28 mpg highway, 27 mpg city
Why buy it? With great fuel efficiency, a sumptuous cabin and a stylish new body, the Hybrid Limited Platinum version of the 2014 Highlander makes a compelling case for luxury SUV shoppers.
By Derek Price © AutoWire.Net - San Francisco
The 2014 Toyota Highlander Hybrid Bottom Line Review provided by: Tony Leopardo © AutoWire.Net
The Bottom Line: The 2014 Toyota Highlander Hybrid SUV is all new inside and out, with impressive high-end trim. The family-friendly Highlander gets a completely fresh design for 2014. The body has a sleek, modern look, while the interior gets a more premium feel and new standard features. The high-end Limited Platinum version of the Highlander emphasizes craftsmanship with wood accents and beautifully stitched leather. From the base model to the Limited Platinum Hybrid Edition there is now a price point and a Highlander for just about everyone. And maybe, just for that reason alone, you should "Drive one, Buy one, Today ©"
Bottom Line Review provided by: Tony Leopardo © AutoWire.Net
"Tony the Car Guy" is an automotive writer, editor and publisher in the San Francisco Bay Area. If you have a question or comment for Tony send it to TonyLeo@pacbell.net or visit AutoWire.Net at www.autowire.net - And remember: " You Are What You Drive © "

Column Name: Highlander gets upscale overhaul
Topic: The 2014 Toyota Highlander Hybrid
Word Count: 916
Photo Caption: The 2014 Toyota Highlander Hybrid
Photo Credits: Toyota Highlander Internet Media
Series #: 2014- 30
Download the Microsoft Word version here: 2014 Toyota Highlander Hybrid
Download the Original Image File here: 2014 Toyota Highlander Hybrid