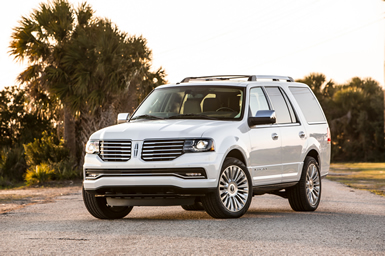 The 2015 Lincoln Navigator L Review: A gigantic Lincoln Navigator with a V6 engine? I couldn't have imagined it a few years ago, but I find myself sitting in one today. While the Navigator has always come with a big, unabashedly thirsty V8 before now, Lincoln decided to drop the eight-cylinder engine in favor of one that's more in tune with the times: a twin-turbocharged, 3.5-liter V6 for 2015.
The EcoBoost engine does a great job mimicking a V8 in the Navigator, offering the same low-end grunt and throaty, seductive exhaust note that large-displacement American engines are famous for.

Even better, it outperforms the old V8 by a noticeable margin. Horsepower is up to 380 and torque is increased to 460 pound-feet, all while gas mileage is improved to 22 mpg on the highway and 16 in the city, if you can believe the ratings. These EcoBoost engines are getting a reputation for burning more fuel than the window sticker would indicate.
Still, who would buy a vehicle like this for the gas mileage?

The new Navigator continues to offer over-the-top levels of performance and luxury. Even my long-wheelbase tester, which carried extra heft because of its extended length, accelerated like a smaller SUV and effortlessly zoomed to 75 mph before the end of freeway on-ramps. Its fun to stomp the gas pedal and hear the engine do its best angry-lion impersonation.

Of course, you can't mention the Navigator without bringing up its arch nemesis, the Cadillac Escalade. The Caddy gets an all-new design for 2015 too and that makes the Navigator show its age a bit, especially on the outside body panels and to a lesser extent with the interior quality.

After driving the new Escalade a few months ago one thing that surprises me is that I still like prefer the Navigator's ride. The Lincoln feels softer and smoother than the Cadillac to me, and I appreciated its silky, squishy suspension setup on some long stretches of interstate highway.

Third-row passengers will appreciate the Navigator's spaciousness, too. Due to a difference in rear suspension designs, the Cadillac has a higher floor than the Navigator in back, making the Lincoln more suitable for adults in a pinch.

Overall, it's a nice improvement on a tried and true design. The Navigator's new EcoBoost engine makes it drive like a more modern SUV without compromising on power.
What was tested? The 2015 Lincoln Navigator L 4X4 with a base price of $67,860. Options on the test vehicle: Reserve equipment group for $7,150 and white platinum paint for $695. The total MSRP price as tested including the $995 destination charge came to: $76,700

Engine: 3.5-liter EcoBoost V6 (380 horsepower, 460 lbs.-ft.)
Transmission: Six-speed SelectShift automatic
Estimated Mileage: 16 city, 22 highway

Why buy it? The new V/6 engine offers spectacular acceleration, and it's a comfortable, luxurious highway cruiser for families. Its pricing makes it look like a good value compared to some of its competitors. By Derek Price © AutoWire.Net - San Francisco
The 2015 Lincoln Navigator L Bottom Line Review provided by:
Tony Leopardo © AutoWire.Net
The Bottom Line: The 2015 Lincoln Navigator updates for 2015 improves the big Lincoln's looks and performance. The Navigator's cabin comes with plenty of leather and wood, giving it the upscale look that people expect from a luxury SUV. A newly designed hood conceals the biggest change in the Lincoln Navigator's history: a new for 2015 twin-turbocharged V6 that replaces the longstanding V8 engine. Now with more horsepower, more leather and better gas mileage, that's why you should "Drive one, Buy one, Today ©". Bottom Line Review provided by: Tony Leopardo © AutoWire.Net
"Tony the Car Guy" is an automotive writer, editor and publisher in the San Francisco Bay Area. If you have a question or comment for Tony send it to TonyLeo@pacbell.net or visit AutoWire.Net at www.autowire.net - And remember: "You Are What You Drive ©"

Column Name: Navigator gets a new V/6 engine for 2015
Topic: The 2015 Lincoln Navigator L
Word Count: 706
Photo Caption: The 2015 Lincoln Navigator L
Photo Credits: Lincoln Navigator Internet Media
Series #: 2015- 06
Download the Microsoft Word version here: 2015 Lincoln Navigator L
Download the Original Image File here: 2015 Lincoln Navigator L