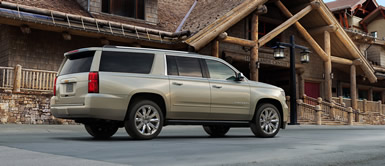 The 2015 Chevrolet Suburban Review: The Chevrolet Suburban turns 80 this year, making it the oldest nameplate in the automotive world, and I can't think of a better way to mark its birthday than with an all-new design. I just spent a week driving the 2015 Suburban, and while there are plenty of upgrades and cool doodads to like on this fresh generation, I'm even more impressed with the fact that it stays true to its roots after eight decades.
It would have been easy for the folks at General Motors to shrink the Suburban or pluck out its truck-based backbone for this new generation, but they didn't. And thank goodness for that.

After all, some people think full-size, body-on-frame SUVs are going the way of the dinosaurs, just waiting on an asteroid of high fuel prices or government regulations to kill them off. Even legends in the SUV world like the Ford Explorer have switched to car-based crossover designs to stay relevant.

The Suburban remains one of the few family vehicles that can truly do it all. Road trips? It feels like driving in a covered stadium. Off-roading? You can get it with four-wheel drive and hit the trails. Towing? It can pull 8,300 pounds of toys and tools from the hitch.
The only downside to that crazy level of versatility is, of course, gas mileage, but even that is improved on this new version. It's rated for 16 mpg in the city and 23 on the highway, which is about 10 percent better than the outgoing Suburban.

GM's engineers made a lot of changes to hit that fuel-economy target, including offering a new 5.3-liter V8 engine, using an aluminum hood and lift gate panels and massaging the aerodynamics to make it a bit more slippery at highway speeds. Just like on GM's newest trucks, the doors are inlaid into the body to help smooth the airflow and eliminate wind noise in the cabin.

As a whole, the Suburban feels noticeably more refined and modern now, starting with the passenger compartment. Tighter gaps, better construction and upscale materials make it feel more like a luxury SUV than ever before, and the sense of spaciousness, both for cargo and people, is as astonishing as ever.

While it's steering, braking and acceleration all feel uninspired, very much like a pickup truck, I thought its suspension was spectacular for long trips on the highway. It felt even smoother than the pricey Cadillac Escalade I drove a few weeks earlier, probably thanks to the Caddy's ridiculously oversized 22-inch wheels.

With the right equipment, though, a Suburban can feel remarkably like a Cadillac. You can get it with radar and camera based safety technology, wireless phone charging, Siri Eyes Free, a built-in WiFi hotspot, a dual-screen Blu-ray DVD player, six USB ports and six power outlets.

It's also available with a hands-free lift gate. If you've got the keyless entry fob in your pocket and your hands are full, you can wave your foot under a sensor to make the rear door lift upward without having to press a button.

As a complete package, this 2015 overhaul makes the Suburban feel like a thoroughly modern SUV with a long, long life still to come.
What was tested? The 2015 Chevrolet Suburban 4WD LTZ model with a base price of $64,700. Options on the test vehicle: Sun, Entertainment and Destination package for $2,805, white diamond tricot paint for $995 and 20-inch chrome wheels for $400. The total MSRP price as tested including the $995 destination charge came to: $70,395

Engine: 5.3-liter direct-injected V8 (355 horsepower, 383 lbs.-ft.)
Transmission: Six-speed automatic
Estimated Mileage: 16 city, 23 highway

Why buy it? It's a refreshing update on an old, trustworthy formula. It's one of the most spacious vehicles on the road, with off-road and towing capability on top of its dream-car status for long highway trips. By Derek Price © AutoWire.Net - San Francisco
The 2015 Chevrolet Suburban Bottom Line Review provided by:
Tony Leopardo © AutoWire.Net
The Bottom Line: 2015 Chevrolet Suburban is celebrating its 80th birthday this year and Chevy's family hauler is more refined than ever. After a complete overhaul for 2015, the Suburban's body looks more sleek and sculpted now. It hints at the modern, refined experience you get in this new-generation SUV. The Suburban's front cabin is dominated by a large digital touch screen display in the center of the dash and this all-new design looks and feels more like a luxury SUV. With traditional size, towing power and overall great looks the new 2105 Suburban is on it's way to the next decade's birthday party, and maybe for that reason alone you should "Drive one, Buy one, Today ©".
Bottom Line Review provided by: Tony Leopardo © AutoWire.Net
"Tony the Car Guy" is an automotive writer, editor and publisher in the San Francisco Bay Area. If you have a question or comment for Tony send it to TonyLeo@pacbell.net or visit AutoWire.Net at www.autowire.net - And remember: "You Are What You Drive ©"

Column Name: Suburban gets an overhaul
Topic: 2015 Chevrolet Suburban
Word Count: 881
Photo Caption: 2015 Chevrolet Suburban
Photo Credits: Chevrolet Suburban Internet Media
Series #: 2015- 08
Download the Microsoft Word version here: 2015 Chevrolet Suburban
Download the Original Image File here: 2015 Chevrolet Suburban