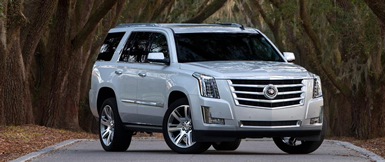 The 2015 Cadillac Escalade Review: Caddy's giant SUV gets a makeover, but is it in tune with the times? While it may not sell in the same numbers it did when Lehman Brothers was still around, the Cadillac Escalade remains the go-to choice for people who like their luxury big and brash. And now, after a complete redesign for 2015, it's doubling down on that formula.
The new Escalade cranks the bling knob up to 11 with jewel-like headlights, lots of LEDs, a suave body that looks tailor-fit despite its large bones, and a high-end cabin that may be the best ever fitted to an SUV.

Of course, it also comes with the same drawbacks as its big, brutish ancestors. At its best, it's rated for 15 mpg in city driving and never completely masks the fact that it's related at some level to Chevy trucks with their solid rear axles and heavy frames.

That said, the Escalade epitomizes classic American luxury like no other vehicle for sale today. The same combination of jurassic size, monumental power and over-the-top luxury that drew Clark Gable to buy a Duesenberg in the 1930s continues to seduce athletes, movie stars, singers and regular ol' affluent moms and dads to drive Escalades this year. The aging Lincoln Navigator comes close, but it doesn't have the same contemporary vibe or sumptuous cabin as the Caddy.

And make no mistake, sumptuous barely begins to describe the Escalade's new interior. Even the base model, priced around $68,000, comes with gorgeous cut-and-sewn leather, heated and cooled front seats, power-folding seats in back and three-zone climate control.
For a ridiculous level of luxury, the $81,515 Platinum edition adds power-retractable steps, a multi-screen DVD system, LED headlamps, 22-inch wheels and even heated and cooled cup holders.

The best way to describe its cabin is authentic, which is a nice change of pace for General Motors. If you see wood in the cabin, it's real wood, not plasticky fake junk. If you see aluminum, it's real aluminum, not silver colored plastic.

My only criticism of this SUV is about the ride quality, and I suspect it has something to do with the optional 22-inch wheels fitted to my test car, perhaps combined with firmer seats in this new generation. The ride felt harder and sportier than I remember Escalades being in the past, even with the magnetic suspension on its most comfortable setting, so I was disappointed that it didn't have the same squishy, marshmallowy feeling that I'd grown to love on older models.

On the flip side, drivers who always wished the Escalade had a sportier feel and less body roll should be jumping for joy at this new setup. The magnetic suspension does a great job giving the driver better control in turns.

It also begs a question: Will all the changes be enough to keep this massive SUV relevant in a post-Lehman world, where the hybrid Prius and electric Tesla seem more in tune with the times? I don't know the answer, but General Motors sure is giving it a great shot.
What was tested? The 2015 Cadillac Escalade 4WD Premium with a base price of $82,795. Options on the test vehicle: Kona brown with jet black accents for $2,000, power retractable steps for $1,695 and 22-inch wheels for $500. The total MSRP price as tested including the $995 destination charge came to: $87,985

Engine: 6.2L V-8 (420 horsepower, 460 lbs.-ft.)
Transmission: Six-speed automatic
Estimated Mileage: 15 city, 21 highway

Why buy it? It's a fresh take on Cadillac's tried-and-true Escalade formula. The new body and interior appointments are fabulous, and its electronics and amenities keep it on the cutting edge of automotive tech. By Derek Price © AutoWire.Net - San Francisco
The 2015 Cadillac Escalade Bottom Line Review provided by:
Tony Leopardo © AutoWire.Net
The Bottom Line: The new 2015 Cadillac Escalade's body looks contemporary without losing its distinctive shape and road presence, and in high-end Platinum trim it's a tech lover's dream. From wireless phone chargers to a well-designed, built-in entertainment system, it's a cutting-edge SUV from a technology standpoint. Pricing starts at $67,970 and goes way up from there, but now you're at the top of the Luxury SUV pile in a Cadillac Escalade, and nothing says you've made it better than driving a Caddy. And maybe, just for that reason alone, you should "Drive one, Buy one, Today ©".
Bottom Line Review provided by: Tony Leopardo © AutoWire.Net
"Tony the Car Guy" is an automotive writer, editor and publisher in the San Francisco Bay Area. If you have a question or comment for Tony send it to TonyLeo@pacbell.net or visit AutoWire.Net at www.autowire.net - And remember: "You Are What You Drive ©"

Column Name: Escalade rises with new design
Topic: 2015 Cadillac Escalade
Word Count: 831
Photo Caption: 2015 Cadillac Escalade
Photo Credits: Cadillac Escalade Internet Media
Series #: 2015- 10
Download the Microsoft Word version here: 2015 Cadillac Escalade
Download the Original Image File here: 2015 Cadillac Escalade