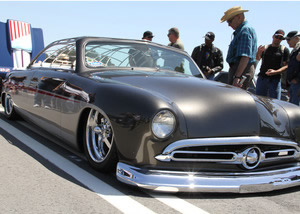 HALF MOON BAY, CALIFORNIA –– There are car shows, air shows, motorcycle shows, tractor shows, maker fairs, music festivals, food festivals, and living history festivals galore. Mix them all together in one venue on one day and you've got Half Moon Bay California's remarkable, one and only Pacific Coast Dream Machines Show –– marking its 25th year in 2015 with a massive celebration of mechanical ingenuity, power and style.
It's quite simply the "Coolest Show on Earth". The spectacular 25th annual event will be held on Sunday April 26, a single day mega-show, from 10 a.m. to 4 p.m. at Half Moon Bay Airport, located in the picturesque seaside town of Half Moon Bay, CA about 20 miles south of San Francisco.
The Pacific Coast Dream Machines Show is a whimsical, fascinating, amusing, curious and absolutely unique show and tell spectacle featuring 2,000 magnificent driving, flying and working machines from the 20th and 21st centuries. The world's coolest cars of every era and style, model-T fire engines, vintage busses, custom motorcycles, tricked out trucks, sleek streamliners, one-of-a-kind antique engines and tractors and historic military aircraft will be among the mesmerizing displays.
To help celebrate their 25th anniversary event, organizers are bringing back some of the extreme/active attractions this year – freestyle motocross shows, unimotorcycle drags, monster truck rides and vintage warbird flyovers – plus remote-controlled drones and aircraft aerobatics debut. "We're proud to say 2015 will mark our 25th Dream Machines Show," said event Chairman Chad Hooker. "It's a landmark year and we plan to make it more spectacular and fascinating than ever as well as celebrate the legacy of our first quarter-century with tributes to show originator Bob Senz and the late Eddie Andreini, both of whom were instrumental in founding and nurturing what has grown into one of Northern California's most unique and beloved events."
It's one of the west coast's biggest, baddest gatherings of the world's coolest cars. Spectators will get a rare up-close look at antique horseless carriages and Ford Model T's, fanciful touring and luxury cars, powerful sports cars, custom cars and street rods, muscle cars, vintage and modern era high-performance race cars, quirky art and pedal cars, modified street machines with cutting edge styles, exotic high-performance cars, stylish European cars, ultra cool low-riders, sporty compacts, modified imports with flashy graphics, fashionable hip-hop urban show cars, homebuilt kit cars, super-charged turbo cars and trucks, "green" technology/alternative fuel vehicles, streamliners, dragsters, funny cars, gassers, and jet cars.
Hundreds of aviation wonders are expected to be on display –– headlined by legendary vintage warbirds like the B-25 Bomber and C-47 Skytrain plus stylish homebuilts, classics from the '40s and '50s, sport and ultralight aircraft. Inspiring flyovers by some of our nation's most storied military aircraft promise to be a fan favorite and, beginning this year, will be flown in memory of Eddie Andreini Sr., world-renown aerobatics pilot, founding Dream Machines contributor and pillar in the Half Moon Bay community. Plus there's "Mustang Madness" –– a spectacular display of America's premier World War II fighter along with YAK Russian fighters and an impressive array of T-6 and T-28 military fighters and trainers. Thrilling rides will be offered in helicopters and vintage bi-planes.
One of the new highlights at this year's show will be the inaugural "DRIVE Magazine Dream Machine of the Year". Editors from Beckett Media's DRIVE Magazine will select a winner from the thousands of magnificent machines on display with a special trophy being awarded at a recognition ceremony during the show.

The attractions for kids are amazing and endless: a super-thrilling zip line, Zorbs – the Human Hamster Ball race track, a bungee jump, climbing wall, wild and wacky waterballerz, giant inflatable rock slide and obstacle course, henna tattoos, face painting, and a remote-controlled NASCAR race track.
There will be plenty of fabulous food and delicious coastal-infused drink with a custom cocktail and beer just for the show – The Aviator, a refreshing gin cocktail, and Bloody Mary's from Half Moon Bay Distillery and Classic Motorhead Ale from Half Moon Bay Brewing Company plus tasty varietals from Half Moon Bay's Barterra Winery.
The sensational music lineup features The Ray Charles Project fronted by 11-time Grammy winner Tony Lindsay and blues guitar great Chris Cain; Wavelength: A Tribute to Van Morrison; and the Andy Santana Band.
The Half Moon Bay Pilots Association Saturday Hangar Dinner will be held on Saturday, April 25 at the Andreini family hangar at Half Moon Bay Airport. Preview some of the historic aircraft and custom cars that will be displayed at the Dream Machines Show and enjoy a festive barbecue tri-tip dinner party. Tickets are $30 per person, available at the door which open at 5:30 pm. Parking is on the airport field – enter off Capistrano Road.
To show a car, the registration fee is $40 ($50 for entries postmarked after April 15) and includes a dash plaque and admission for two people.
Spectator admission is $25 for adults (age 18-69), $15 for ages 11-17 and 70+, FREE for kids age 10 and under. Tickets are available at the gate only. Vehicle and bicycle parking on the airport grounds is included in the price of admission.
The show is open to the public on Sunday, April 26 from 10 am to 4 pm. Gates open at 6:30 for those that have registered their machine or plan to register to show day of show.
Half Moon Bay Airport, at 9850 N. Cabrillo Highway, is located on Highway 1, about 20 miles south of San Francisco and 5 miles north of Highway 92.
The show benefits the Coastside Adult Day Health Center.
For event information and registration forms, call the info-line at
650-726-2328, or website www.miramarevents.com/dreammachines
WHEN: April 26, 2015. Hours are 10 a.m. to 4 p.m.
WHERE: At Half Moon Bay Airport (9850 N. Cabrillo Hwy) on Hwy. 1,
Five miles north of Hwy. 92. or about 20 miles South of San Francisco.
ADMISSION: $25 for adults age 18 to 69, $15 for ages 11-17 and 70+
and FREE for kids age 10 and under.
INFO-LINE: 650-726-2328
WEBSITE: http://www.miramarevents.com/dreammachines
The 25th Annual Pacific Coast Dream Machines Show Review: provided by:
Tony Leopardo © AutoWire.Net "Tony the Car Guy" is an automotive writer, editor and publisher in the San Francisco Bay Area. If you have a question or comment for Tony send it to TonyLeo@pacbell.net or visit AutoWire.Net at www.autowire.net - And remember: " You Are What You Drive ©"

Column Name: The "Coolest Show on Earth"
Topic: The 25th Annual Pacific Coast Dream Machines Show
Word Count: 1,134
Photo Caption: The 2015 Pacific Coast Dream Machines Show
Photo Credits: Miramar Events Internet Media
Series #: 2015- 11
Download the Microsoft Word version here: 2015 Pacific Coast Dream Machines

Download the Original Image File here: 2015 Pacific Coast Dream Machines