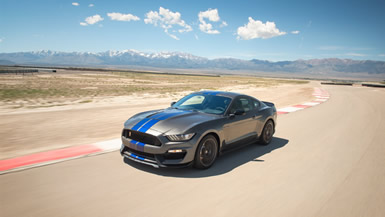 The 2016 Ford Mustang GT Coupe Review: After a brilliant redesign last year, the Ford Mustang is finding new ways to tug at buyers' heartstrings in 2016. The new design certainly tugs at mine. Before 2015, I'd always struggled to "get" this car because of quirky things like its out-of-date suspension and inexcusably cheap feeling interior. It took a Shelby Mustang with its drastically revamped, sports-car-like suspension to make me really enjoy driving it. With this new generation, though, the Mustang is so much easier for me to love. It dumped its old ox-cart rear suspension in favor of one that feels like it belongs in a modern car, and its new interior, perhaps the most dramatic and uniquely styled cabin on the market today, is a vast improvement. And oh, that body.
It's a drop-dead gorgeous car on the outside with an overabundance of raked-back lines that give it the unmistakable look of a 'Stang. It's an instant classic in my eyes. For 2016, Ford is toying with Mustang lovers' emotions by adding several features that harkens back to the pony car's golden years.

One is putting the turn signals into the hood vents on GT models, a nod to the Deluxe Hood that had the same feature back in 1967. When you put the turn signal on, you can see it flashing in the left or right vents up on the hood, a smart idea that keeps the driver from becoming a blinker nerd. Ford says this is something the Mustang's rabid, history - conscious fan base has been clamoring to get for years.

Another is adding the California Special Package for 2016, a style and option upgrade that holds a special place in Mustang lore. It's inspired by the special edition Mustang that was created for California dealers in 1968, a car that's highly desired by collectors today.

The 2016 California Special, which is the version Ford sent me to test, comes drenched in nostalgia with a long list of styling touches to catch your eye. The most noticeable are the black pedestal spoiler and bold, wicked hood and side stripes, but it's the little things I like even more. Its 19-inch ebony painted wheels, red stitching on the seats and carpet, unique gas cap and tri-bar pony logo on the grille are all nice details.

My test car came painted in Triple Yellow, or arrest-me yellow, as I like to call it. If you want attention, that's one way to get it, especially with the rumbling V8 and racing stripes that make this one of the most extroverted cars I've driven in quite some time.

And boy, it's a lot of fun. The sounds, the sensations, the feel over the road, they're all exactly what you want from a modern-day muscle car. Who can argue with a 435-horsepower V8?

I did miss the GT Performance Package that made the Mustang I drove last year feel so much better in corners. Without that package, it feels a bit more sloppy in turns but also more comfortable on highway trips, so it's a matter of personal preference. As for me, I'll always take the corner-carving 'Stang when given the chance.

Another notable change: Ford is putting the new Sync 3 system in the Mustang this year, which is a major upgrade over the slower, fussier system in last year's model. It uses voice controls that, while not quite as slick and intuitive as Apple's Siri, can still be useful for doing things like entering your destination in the navigation system.
What was tested? The 2016 Ford Mustang GT Coupe Premium with a base price of $36,395. Options on the test car: Shaker Pro audio upgrade for $1,795, Triple Yellow paint for $495, enhanced security package for $395, the California Special package for $1,995, and the voice-activated navigation system for $795. The total MSRP price as tested including the $900 destination charge came to: $42,770. Pricing starts at $24,145 for a V6-powered Mustang and $32,395 for the GT with its drool-worthy V8.

Wheelbase: 107.1 in.
Length: 188.3 in.
Width: 75.4 in.
Height: 54.4 in.
Engine: 5.0 - liter V8 (435 hp, 400 lb.-ft.)
Transmission: Six-speed manual
Mileage: 15 city, 25 highway

Why buy it? Changes for 2016 are designed to make rabid Mustang fans happy, including turn signals in the hood vents and a new California Special package that is inspired by the classic 1960s Mustangs.
By Derek Price © AutoWire.Net - San Francisco
The 2016 Ford Mustang GT Coupe Bottom Line Review provided by: Tony Leopardo © AutoWire.Net
The Bottom Line: The 2016 Mustang GT Coupe is a new-generation Ford Mustang that has stunning good looks. It's instantly recognizable as a Mustang with its long doors and a sweeping fastback roofline that shows it's proud of its heritage. Special trim and badging make the interior of the new California Special package stand out too. These Mustang Pony Cars have new features, new option packages, and even more 1960's nostalgia on the 2016 models. And maybe, just for those reasons alone, you should "Drive one, Buy one, Today ©".
Bottom Line Review provided by: Tony Leopardo © AutoWire.Net
"Tony the Car Guy" is an automotive writer, editor and publisher in the San Francisco Bay Area. If you have a question or comment for Tony send it to TonyLeo@pacbell.net or visit AutoWire.Net at www.autowire.net - And remember: "You Are What You Drive ©"

Column Name: Mustang brings out emotions
Topic: 2016 Ford Mustang GT Coupe
Word Count: 951
Photo Caption: 2016 Ford Mustang GT Coupe
Photo Credits: Ford Mustang Internet Media
Series #: 2016 - 12
Download the Microsoft Word version here: 2016 Ford Mustang GT Coupe
Download the Original Image File here: 2016 Ford Mustang GT Coupe