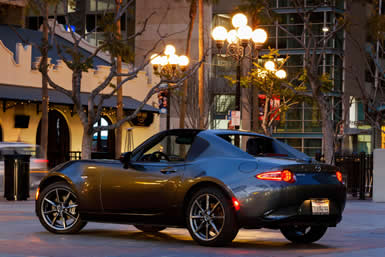 The 2017 Mazda MX-5 Miata Grand Touring RF Review: In the interest of full disclosure, I'll state my bias up front: I love the Mazda Miata almost to the point of insanity. I've owned a Miata most of my adult life and plan to keep at least one in my garage until the day I die. From my perspective, it's the perfect vehicle for everyone from teen drivers to grandparents to furniture delivery companies, because it has unlimited vertical cargo capacity when you put the top down! It's incredibly reliable. It gets great gas mileage. And most importantly, it's the most fun-to-drive vehicle on the planet.

That also means I hold strong opinions about how you should and shouldn't order your Miata. In my perfect world, putting an automatic transmission in a Miata would be a capital offense. Ordering one with a hard top would be a felony, at least before this year with the arrival of the Miata RF.

Before now, the retractable hard-top Miata was always an abomination that offends my sports-car puritanism. It added excess weight and looked a bit ungainly on an otherwise beautifully-penned exterior.

But the new Miata RF, which stands for "retractable fastback," has changed my mind because it does something I thought was impossible: make the Miata look even prettier.
Rather than just plopping a mechanical roof contraption on top of a pretty Miata, which is what Mazda did on previous generations, the new RF gives the car's back end a whole new look. It's sleek. It's sexy. It's absolutely stunning to look at, with swept-back pillars that make it feel like an exotic Italian sports car.

Yes, the RF version adds 113 pounds when it steps on the bathroom scale and takes an extra $6,640 from your bank account compared to the base Miata. My puritan side doesn't like this sin, even though it atones for it with a quieter driving experience and better looks.

My bias tends to minimize the so-called faults this car might have, too, so my wife pointed out a few things she noticed. Storage space is almost nonexistent, without a glove box. The most usable storage bin is located next to the driver's right shoulder, not exactly an easy place to access, and is covered with a flimsy feeling door. Rear visibility is awful, she says.

I'm blind to all that. All I can do when I step inside is turn the key and grin like a maniac.
In my mind, rear visibility doesn't matter much because every Miata comes from the factory with an ingenious safety feature I call Automatic Sound Intrusion. When you put the top and windows down, ASI allows all the sounds and sensations from the world around you to come inside the cabin unimpeded.

In a parking lot, you won't back into shoppers because you can hear the shopping carts squeaking as they move behind you. On the highway, ASI notifies you every time a car enters your blind spot when you can hear the wind and tire noise screaming into your ear drums.

That's why I always drive Miata's with the top down, for safety reasons, of course.
ASI comes at no extra charge on every convertible by simply lowering the top, and you can activate it in the Miata RF by pressing a button that stows the roof away in just 13 seconds. The entire fastback portion of the car lifts up to let the top fold under mechanically, origami style, to be neatly hidden in back.
What was tested? The 2017 Mazda MX-5 Miata Grand Touring RF with a base price of $32,620. Options on the test car are: Gray paint charge for $300 and a keyless entry system for $130. The total MSRP price as tested including the $835 destination charge came to: $33,885

Wheelbase: 90.9 in.
Length: 154.1 in.
Width: 68.3 in.
Height: 48.6 in.
Engine: 2.0-liter four cylinder with 155 hp and 148 lbs-ft of torque
Transmission: Six-speed manual
Fuel economy: 26 city, 33 highway
And now if you need additional safety features, the Club trim comes with rear cross traffic alert and blind spot monitoring. The fancier Grand Touring adds a lane departure warning system, high beam control, adaptive front lighting system and rain-sensing wipers.

Why buy it? The RF version makes the quintessential sports car even prettier. Its retractable hard top minimizes highway noise and it looks gorgeous, whether the top is up or down. By Derek Price © AutoWire.Net - San Francisco
The 2017 Mazda MX-5 Miata Grand Touring RF Bottom Line Review provided by: Tony Leopardo © AutoWire.Net
The Bottom Line: The new 2017 Mazda retractable fastback RF top makes the MX-5 sports car look even better. A sleek rear end makes the RF look somewhat like a pricey Italian sports car. It has a retractable hard top that motors away at the touch of a button.
The Miata's cabin is still spartan but is really designed for drivers. It's a car that feels natural to drive, with a low seating position, and a perfectly placed shifter. More than anything else, a drive in the Miata RF proves an old saying is completely wrong. Money can indeed buy happiness, starting at $31,555. And maybe, just for those reasons alone, you should "Drive one, Buy one, Today ©".
This Bottom Line Review is provided by: Tony Leopardo © AutoWire.Net
"Tony the Car Guy" is an automotive writer, editor and publisher in the San Francisco Bay Area. If you have a question or comment for Tony send it to TonyLeo@pacbell.net or visit AutoWire.Net at www.autowire.net - And remember: "You Are What You Drive ©"

Column Name: Retractable Hardtop RF Improves Miata
Topic: 2017 Mazda MX-5 Miata Grand Touring RF
Word Count: 995
Photo Caption: 2017 Mazda MX-5 Miata Grand Touring RF
Photo Credits: Mazda Internet Media
Series #: 2017 - 21
Download the Microsoft Word version here: 2017 Mazda MX-5 Miata Grand Touring RF
Download the Original Image File here: 2017 Mazda MX-5 Miata Grand Touring RF