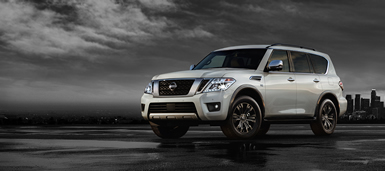 The 2017 Nissan Armada Platinum Edition Review: In recent years, the Infiniti QX80 has topped my list of dream SUVs for road trips. It's so spacious, so quiet and so sumptuously smooth that it makes a Cadillac Escalade shod with 22-inch wheels feel like a dump truck in comparison, so I can't think of any SUV I'd rather drive on the highway. The QX80 is just that good, assuming you want an old-school, cotton-candy luxury ride like I do. Well, now the big Infiniti has some fresh competition from its corporate cousins at Nissan. The new 2017 Nissan Armada rides on the same platform, drives with almost the same panache and even shares much of the same styling with the QX80, all while starting at a dramatically lower price.

The new Armada starts at $44,400, which is not only a far cry from the QX80's $63,250 base price but also very competitive with full-size SUV stalwarts like the Chevy Tahoe at $47,000 and Ford Expedition at $46,225.

Powered by a deep-throated but buttery-smooth 5.6-liter V8, the Armada makes 390 horsepower, and letting Nissan claim best-in-class bragging rights. Interestingly, it's also a bit less horsepower than this same engine makes in the QX80, which is tuned to burn premium fuel.

Longtime Nissan fans will note that this new Armada is no longer based on the Titan pickup truck's underpinnings. Instead, it's built around the legendary, tough-as-nails Patrol off-roader that Nissan sells globally.

The new design is roomier and much more comfortable to drive than the previous generation and still allows for some serious off-road capability when needed.
I drove the Armada both on-road and off, and it managed to shine equally well in both settings.

On the highway, it's brilliantly composed as it smooths over the bumps without making you feel overly isolated from the road. Wind and road noise are impressively absent, a factor I've always loved about its Infiniti cousin.

It also manages to traverse steep hills and loose dirt with ease, something I wasn't expecting from a vehicle that feels so nice on the pavement. Most SUVs make you choose one or the other, either go-anywhere capability or a comfortable ride on the street, but the Armada manages to do both jobs better than any vehicle I've seen in this price class. In fact, the closest vehicles it compares with in capability and comfort both start around $85,000: the Toyota Land Cruiser and the Range Rover.
It seems Nissan has found a way to offer a big, do-it-all vehicle for a fraction of the entry cost of those luxury models. While I'll admit it's completely subjective, the biggest downside I see in the Armada is the way it looks.
I can't pin down one singular thing that bothers me about it, but I suspect that it's trying to combine too many styling tricks at once, off-road bits, truck-like bits, luxury bits, and ends up smearing them together inelegantly into one vehicle. In the end, it looks like it came from an unfortunate gene pool. Not everyone agrees. Innovative cars, just like innovative art, can be incredibly polarizing at first.

In fact, despite my reservations about this particular design, I'm thrilled that Nissan isn't following the well-beaten path of lookalike, cookie-cutter SUVs and crossovers that are cluttering up our highways with their inoffensiveness. Too many of them are hard to tell apart these days, making you ask yourself, "Is that a Hyundai or a Honda? Maybe a Chevy or a Subaru?"
What was tested? The 2017 Nissan Armada 4x4 Platinum Edition with a base price of $59,990. Options on the test car: None. The total MSRP price as tested including the $995 destination charge came to: $60,985

Wheelbase: 121.1 in.
Length: 208.9 in.
Width: 79.9 in.
Height: 75.8 in.
Engine: 5.6-liter Endurance V8 with 390 hp and 394 ft. lbs. of torque
Transmission: Seven-speed automatic
Fuel economy: 14 city, 19 highway

Why buy it? An all-new generation of this three-row SUV makes it a capable off-roader with a soft, comfortable, quiet highway ride. It's a rare combination, especially in this price range. By Derek Price © AutoWire.Net - San Francisco
The 2017 Nissan Armada Platinum Edition Bottom Line Review provided by: Tony Leopardo © AutoWire.Net
The Bottom Line: The 2017 Nissan Armada 4x4 Platinum Edition is a newly designed SUV based on the same platform as the very luxurious Infiniti QX80. This new Armada is a spacious, powerful, off-road-capable SUV that starts around $44,000. The new Armada's cabin is roomier and much better designed than the previous, Titan-based generation. It's now remarkably quiet and very smooth over pavement. You never have to ask yourself much about the current Nissans. Like the Maxima sedan and the gorgeous Murano crossover, the fresh new 2017 Nissan Armada looks, and for that matter, drives, like nothing else on the road. And maybe, just for those reasons alone, you should "Drive one, Buy one, Today ©".
This Bottom Line Review is provided by: Tony Leopardo © AutoWire.Net
"Tony the Car Guy" is an automotive writer, editor and publisher in the San Francisco Bay Area. If you have a question or comment for Tony send it to TonyLeo@pacbell.net or visit AutoWire.Net at www.autowire.net - And remember: "You Are What You Drive ©"

Column Name: Nissan's Fresh Armada
Topic: 2017 Nissan Armada Platinum Edition
Word Count: 922
Photo Caption: 2017 Nissan Armada Platinum Edition
Photo Credits: Nissan Internet Media
Series #: 2017 - 25
Download the Microsoft Word version here: 2017 Nissan Armada Platinum Edition
Download the Original Image File here: 2017 Nissan Armada Platinum Edition