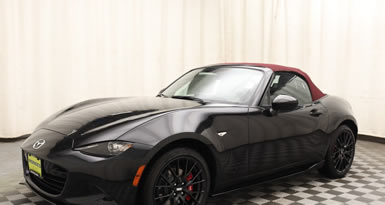 The 2018 Mazda Miata Club Review: For pure driving bliss, it's hard to beat this car, the Mazda MX-5 Miata. It's easy to wax poetic about a two-seat sports car designed entirely around the emotions of driving. Everything about it is tailored to make drivers smile, from the sinckety-snick feel of its short-throw manual transmission, to the classic burble of its exhaust.
To me, it's absolute perfection. It's one of the few cars on which I wouldn't change a single nut or bolt because it feels like it was delivered from the driving gods in its ideal, pure, transcendent form.

You can look into the details to guess at why. Some of its basic elements are the best ever executed on any car at any price, like its manually operated cloth top that can be raised or lowered in one fast, easy, fluid motion with one arm. No other convertible comes anywhere close to that beautiful simplicity.

You could say the same thing about its manual transmission. Its short, precise, mechanical throws feel like flipping a toggle switch on a vintage aircraft.

With a seating position barely above the ground, arm rests and the shifter knob exactly where your arms naturally lay, and a perfectly weighted steering wheel just above your lap, it's not just a car you drive. It's a car you wear. And it fits just right, like a tailored suit.

There are people who complain about some aspects of the Miata. They say it's too small, too noisy, too impractical and doesn't have a glove box.

Let me be exceptionally clear: Those people are bad human beings. You shouldn't spend time around them.

Those complaints entirely miss the point of this car. In fact, I think Mazda did an amazing job making the Miata an easy car to live with on a daily basis, considering all the "daily driver" tasks from trunk space, to cup holders are secondary, to its laser-focused mission of driving fun.

The Miata was brilliantly redesigned just two years ago, so it's no surprise that the changes for 2018 are relatively minor.

You can get the soft top in a dark cherry color this year, something I thought looked different but still tasteful on my tester. An auburn Nappa leather interior is also available on the Grand Touring trim after being limited to the exclusive MX-5 RF Launch Edition last year.

A revised infotainment system with a 7-inch touchscreen is now standard on all models, along with smart keyless entry.

While Mazda claims to have changed the rear suspension tuning and power steering this year, the difference feels subtle to me at best. It drives very similar to the 2017 model, perhaps with a bit less road noise infiltrating from the rear tires.

Mazda continues to sell the retractable hard-top version of the Miata, called the RF, with sleek fastback styling and a quieter highway experience. Priced at $31,910, it's around a $7,000 premium over the base ragtop Miata.

For ease of use and matching the MX-5's spiritual mission, I like the soft top better. My eyes feel drawn to the RF, though, with its stunningly beautiful, with an almost supercar-like back end.

What was tested? The 2018 Mazda Miata Club with a base price of $29,155. Options on the test car: none. The total MSRP price as tested including the $890 destination charge came to: $30,045

Wheelbase: 90.9 in.
Length: 154.1 in.
Width: 58.9 in.
Height: 48.6 in.
Engine: 2.0-liter four cylinder (155 hp, 148 lbs.-ft.)
Transmission: Six-speed manual
Fuel economy: 26 city, 35 highway

Why buy it? It's pure joy on four wheels. It's a blast to drive at any speed, has a manual transmission that feels spectacular, and a manual soft top with the best functionality in the history of cars.
By Derek Price © AutoWire.Net - San Francisco
The 2018 Mazda Miata Club Bottom Line Review provided by:
Tony Leopardo © AutoWire.Net
The Bottom Line: The 2018 Mazda Miata Club is a joy for people who love driving.
The Miata's cabin, like the rest of the vehicle, is focused on the driver. It's a classic roadster designed for open-air enjoyment, something it delivers in abundance.
Starting price for the soft-top Miata is $25,295, making it the best happiness-per-dollar bargain on the market today, by a wide margin. And now with an optional cherry red convertible top its the most eye-catching change to the MX-5 Mazda Miata for 2018.
And maybe, just for those reasons alone, you should "Drive one, Buy one, Today ©".
This Bottom Line Review is provided by: Tony Leopardo © AutoWire.Net
"Tony the Car Guy" is an automotive writer, editor and publisher in the San Francisco Bay Area. If you have a question or comment for Tony send it to TonyLeo@pacbell.net or visit AutoWire.Net at www.autowire.net - And remember: "You Are What You Drive ©"

Column Name: Perfection Behind the Wheel
Topic: The 2018 Mazda Miata Club
Word Count: 855
Photo Caption: The 2018 Mazda Miata Club
Photo Credits: Mazda Internet Media
Series #: 2018 - 14
Download the Microsoft Word version here: 2018 Mazda Miata Club
Download the Original Image File here: 2018 Mazda Miata Club