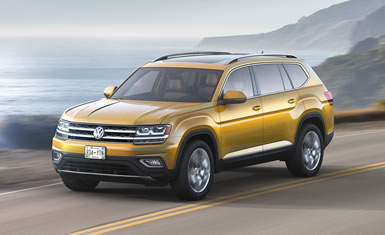 The 2018 Volkswagen Atlas V6 SEL Premium Review: This vehicle carries a lot of weight on its shoulders. It's called the Atlas, and it bears the burden of Volkswagen's longtime dream for the American market: offering a full-size SUV for full-size families.

Until this year, VW's largest vehicle was the Touareg, a two-row crossover that seats five people. That's big enough for most buyers in Volkswagen's core European territory, but American buyers who needed more space simply outgrew the VW brand.
Many turned to domestic SUVs, Ford Explorers, Chevrolet Tahoes and Dodge Durango's, to meet their needs. The Atlas aims to keep those buyers under the Volkswagen banner instead.

For people who already are fans of Volkswagen's cars and crossovers, the Atlas makes perfect sense. It has the brand's familiar look and feel, from its clean, largely unadorned body to its snappy, firm, responsive driving impression that makes it seem like a smaller vehicle from behind the wheel. More importantly, it can hold up to seven people spread across three rows of spacious seats.

In many ways, it's like driving a giant Passat. That means there are pluses and minuses.
On the upside, its smooth, quiet ride and nimble maneuverability make it a good fit for both city and highway driving. It feels spacious, much like the Passat, even in the third-row seat. And its fuel economy ratings of 22 mpg in the city and 26 on the highway are good for this size vehicle.

It also shares some of the Passat's downsides, most notably its cabin design that explores the boundary between minimalistic and dull. I thought there was a bit too much plastic inside for an all-new vehicle, and its biggest engine, a 3.6-liter, 276-horsepower V6, feels competent but uninspiring.

It is impressively capable, though, with a tow rating of up to 5,000 pounds when properly equipped. And even with the V6, highway fuel economy ratings don't take a major dip, still checking in at 25 mpg on two-wheel-drive models according to government tests.

Other than its sheer size, the Atlas' top selling point is its technology. Every model comes equipped with Apple CarPlay and Android Auto as standard equipment, a wise move for an era when smartphone connectivity is high on many buyers' wish lists.

Optional technologies include the Digital Cockpit instrument cluster that can be customized to show various bits of information; Volkswagen Media Control, which lets you control the car's entertainment system via mobile devices, including from the back seat; and a custom tuned Fender premium sound system that VW claims can "recreate the emotion of a live performance for all three rows of passengers."

The Atlas is available in five trim levels. Pricing starts at $30,750 for the base S model with a four-cylinder engine and front-wheel drive, and it tops out at $48,490 for the SEL Premium trim with a V6 and all-wheel drive.
What was tested? The 2018 Volkswagen Atlas V6 SEL Premium with 4MOTION with a base MSRP price of $48,490. Options on the test car: None. Price as tested including the $925 destination charge came to: $49,415

Wheelbase: 117.3 in.
Length: 198.3 in.
Width: 78.3 in.
Height: 70 in.
Engine: 3.6-liter V6 (276 hp, 266 ft-lbs)
Transmission: Eight-speed automatic
Fuel economy: 17 city, 23 highway

By Derek Price © AutoWire.Net - San Francisco
The 2018 Volkswagen Atlas V6 SEL Premium Bottom Line Review provided by:
Tony Leopardo © AutoWire.Net
The Bottom Line: The 2018 Volkswagen Atlas V6 SEL Premium three-row SUV is the biggest Volkswagen model has ever offered in America. The Atlas' interior features simple, clean, horizontal lines that emphasize its spacious dimensions. It feels wide and roomy inside.

Why buy it? It has the good clean look and German driving feeling of a Volkswagen, but the carrying capacity of an American-style SUV. Three rows of seating and 5,000 pounds of towing capability bring a new whole new level of utility to Volkswagen this year.

And maybe, just for those reasons alone, you should "Drive one, Buy one, Today ©".
This Bottom Line Review is provided by: Tony Leopardo © AutoWire.Net
"Tony the Car Guy" is an automotive writer, editor and publisher in the San Francisco Bay Area. If you have a question or comment for Tony send it to TonyLeo@pacbell.net or visit AutoWire.Net at www.autowire.net - And remember: "You Are What You Drive ©"

Column Name: Atlas Lifts VW higher
Topic: Volkswagen Atlas V6 SEL Premium
Word Count: 775
Photo Caption: 2018 Volkswagen Atlas V6 SEL Premium
Photo Credits: Volkswagen Internet Media
Series #: 2018 - 19
Download the Microsoft Word version here: 2018 Volkswagen Atlas V6 SEL Premium
Download the Original Image File here: 2018 Volkswagen Atlas V6 SEL Premium