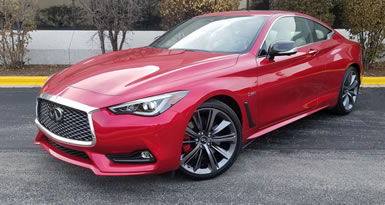 The 2018 Infiniti Q60 Red Sport 400 Review: If sports coupes rarely sell in big numbers, why do car companies build them? More than anything else, its to make a statement. And Infiniti is practically shouting about its innovation and style with its sexy, two-door Q60. This is a car that makes a visual statement, front and center, setting the tone for the entire Infiniti brand, with its sleek lines and deeply sculpted curves.

The basic proportions are classically beautiful with an elongated hood, raked-back roofline and large, 19-inch wheels tucked in right at the corners. Its in the details, though, that the Infiniti's designers get more adventurous.

For an unusual touch, the C-pillars have a crescent shape that dramatically lunges forward. Combined with angular LED headlights, an inset grille and scooped-out character lines on the sides, the Q60 exudes a sense of motion from every angle.
Even more than the way it looks, though, this car creates a halo for Infiniti in two other areas: technology and performance.

The high-performance version I tested, called the Red Sport 400, delivers 400 horsepower to its extra-wide rear tires via a 3.0-liter twin-turbocharged V6. It's phenomenally fast, as you'd expect with that much power on tap, but it also delivers its force to the pavement brilliantly through curves.

A major reason for that is the Dynamic Digital Suspension, which comes standard on both the Q60 Sport and Red Sport 400. It lets the driver adjust the firmness of the suspension between the relatively compliant Sport mode and the noticeably firmer Sport+ mode.

An innovative steer-by-wire system, called Direct Adaptive Steering, can transmit input from the driver to the front wheels even faster than a traditional mechanical linkage, Infiniti claims.

In addition to the range-topping, 400-horsepower model, the Q60 is also available with a 208-horse turbocharged four-cylinder engine or a 300-hp V6. All versions of the Q60 are available with either rear wheel or all-wheel drive. Inside, Infiniti tries to mix two philosophies: traditional craftsmanship and heavy technology.

For the most part, the mixture works, with an artistic sense of design that matches the outgoing body and tech that's omnipresent but never too intrusive.

The center stack is dominated by two touchscreen displays, 8 inches on top and 7 inches on bottom, that combine to keep all the vehicle's functions within easy reach. I also like how it doesn't force you to use the digital screen for simple tasks. Commonly used features like changing the radio station and volume all have their own dedicated, old-fashioned buttons and knobs.

Pricing starts at $38,950 for the base Pure trim, $44,300 for the Luxe version with the 300-horsepower V6, and $52,000 for the Red Sport 400. All-wheel drive adds $2,000 to the price on all models.
What was tested? The 2018 Infiniti Q60 Red Sport 400 with a base price of $52,000. Options on the test car: The Sensory package for $2,250, the ProAssist package for $2,250, the ProActive package for $2,850, upgraded paint for $800, illuminated kick sill plates for $400 and the carbon fiber package for $2,250. The total MSRP price as tested including the $905 destination charge came to: $63,705

Wheelbase: 112.2 in.
Length: 184.4 in.
Width: 72.8 in.
Height: 54.5 in.
Engine: 3.0-liter twin-turbo V6 (400 hp, 350 lbs.-ft.)
Transmission: Seven-speed automatic
Fuel economy: 20 city, 27 highway
By Derek Price © AutoWire.Net - San Francisco
The 2018 Infiniti Q60 Red Sport 400 Review: Bottom Line Review provided by: Tony Leopardo © AutoWire.Net
The Bottom Line: The 2018 Infiniti Q60 Red Sport 400 Coupe mixes innovative tech with generous power and the Q60 is one of the most eye-catching sports coupes on the market today. Plus the designers gave the Q60's cabin a cool, sophisticated and athletic cabin to match its sleek body. It's also impressively quiet inside thanks to excellent sound insulation and active noise cancellation that comes standard on all models.

Why buy it? It's stunning to look at and offers eye-popping performance for the money, especially in the powerful, range-topping Red Sport 400 trim. And maybe, just for those reasons alone, you should "Drive one, Buy one, Today ©".
This Bottom Line Review is provided by: Tony Leopardo © AutoWire.Net
"Tony the Car Guy" is an automotive writer, editor and publisher in the San Francisco Bay Area. If you have a question or comment for Tony send it to TonyLeo@pacbell.net or visit AutoWire.Net at www.autowire.net - And remember: "You Are What You Drive ©"

Column Name: Beauty and Power
Topic: 2018 Infiniti Q60 Red Sport 400
Word Count: 793
Photo Caption: 2018 Infiniti Q60 Red Sport 400
Photo Credits: Infiniti Internet Media
Series #: 2018 - 24
Download the Microsoft Word version here: 2018 Infiniti Q60
Download the Original Image File here: 2018 Infiniti Q60