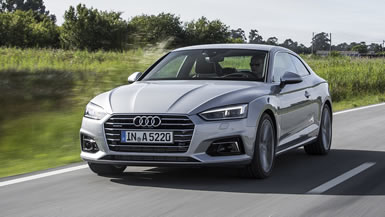 The 2018 Audi A5 Coupe Review: Audi is famous for its fine sedans, and they've more recently added a line of popular crossover vehicles. The A5, however, is a coupe, occupying a slightly sportier segment in the lineup. This next-generation model just received significant updates, too, on a new chassis. While Audis have been conservatively updated over the years, their general proportions historically are clean and balanced. Over the last several years, larger and larger grilles and more edges have become more part of the design.
Despite some sharply defined details, the new A5 has a pleasing upward curve on the rear fenders, with muscular haunches giving more liveliness to the design. The hood wears sharp creases as it points down to the fiercely rendered "eyes" and a wider, flatter Single frame grille. As per today's style book, vents under the headlight pods give a more mechanical, race car feel. You can order up optional LED or matrix LED headlamps with dynamic turn signals, too.
Where Audis especially shine is in their interiors. This one is no different. With the new model's longer wheelbase, the interior offers more room. The aluminum trim glistens throughout and assembly and materials remain first rate.
The electronic Virtual Cockpit delights with its realistic but artificially generated instrument panel. Its high-resolution 12.3-inch TFT display can be configured in two ways with a push of a button. It's fun to watch the dials shrink and slide to the sides to display vehicle information.
As usual, you control what's on your center console screen with a dial on the floor console. You can get used to this way of interaction. Apple CarPlay and Android Auto give you access to your apps and conveniences like hands-free texting (it's legal) while underway.
So many nice touches. A rimless rearview mirror sits between the reading lamps, which turn on as your hand nears them. Strip lights under the door speakers and on the console add ambiance at night. The trunk offers four chrome tie downs and a netted storage area on each side.
In the U.S., your engine choice is single – a 2.0-liter turbocharged inline four-cylinder that puts out 252 horsepower and 273 lb.-ft. of torque. Good news – you can select either a six-speed manual or a seven-speed automatic, with no price difference. My tester came with the automatic, which is the way most buyers in America are likely to take it. In Germany, there are several Diesel engine options which we are not likely to ever see on this side of the Atlantic.
This compact turbo power plant takes the 3,549-pound A5 from zero to 60 in a respectable 5.7 seconds. And there's plenty of entertainment as the firm suspension and crisp steering give you a feeling of lightness and control. The new A5 is 132.2 pounds lighter than its predecessor, thanks to the use of advanced materials and lightweight design.
EPA numbers, for a sporty car, are quite good: 24 mpg City, 34 Highway, and 27 Combined. I averaged 24.8 mpg, but in an example of how you drive making a difference, my final 18-mile commute netted 30.2 mpg. The green scores are 5 for Smog and 6 for Greenhouse Gas – about average.
Of course, Audi provides its famous Quattro all-wheel-drive system for more safety and performance without you lifting a finger. There's a long list of standard safety features, from eight airbags to pre-sense preventative occupant protection in case of a crash. You'd expect no less.
Like so many cars in this segment, the standard package is well equipped already, but you can easily load it up. My Glacier White Metallic tester ($575 for that special paint) included the Premium Plus Package ($3,000), with heated mirrors and seats, SiriusXM, a parking assistance system, and much more. The Navigation Package ($2,600) includes navigation plus the Virtual Cockpit. The S line sport package ($1,250) injects sportiness and exclusivity with 18-inch alloy wheels, and unique S line bumpers, fender badges, sill blades, and a sport suspension.
But wait, there's more! My car also included a sensational Bang & Olufsen audio system with 3D sound ($950) and a wheel upgrade to the S line 19-inch wheel package ($800). Do the math, and a car that base prices at $42,800 comes to $52,950 with destination charge.
Audi has been on a roll for quite a while, with monthly sales numbers increasing month-to-month for years. Although some of the simplicity of the design is lost, the mixture of driver-oriented performance features and the exquisite quality of assembly and components add up to a compelling package. Although coupes are a minority today, it shows that the four-ring marque is serious about providing a range of choices. No minivans or pickup trucks are coming, however.
By Steve Schaefer © AutoWire.Net - San Francisco
The 2018 Audi A5 Coupe Bottom Line Review provided by:
Tony Leopardo © AutoWire.Net
The Bottom Line: The 2018 Audi A5 Coupe, Timeless or Trendy? That's the question I'm asking myself from behind the wheel of the Audi A5, a sleek sports coupe that's been redesigned for 2018.

On the one hand, this car is a monument to contemporary style, a rolling Museum of Modern Art. Its squinty LED headlights, neatly pressed body creases and acres of digital screens in the cabin make it a vehicle that's clearly designed for this fleeting moment in time.

That makes the case for the A5 being a trendy blip, a car that will look "so 2018" a couple of years from now when surely Audi will offer a new-and-improved version for people fortunate enough to upgrade their cars as readily as their wardrobes.

Today's Audis are nothing if not large, mobile fashion accessories. Take another look, though, and it also makes the case that this is a vehicle for the ages. And maybe, just for those reasons alone, you should "Drive one, Buy one, Today ©".
This Bottom Line Review is provided by: Tony Leopardo © AutoWire.Net
"Tony the Car Guy" is an automotive writer, editor and publisher in the San Francisco Bay Area. If you have a question or comment for Tony send it to TonyLeo@pacbell.net or visit AutoWire.Net at www.autowire.net - And remember: "You Are What You Drive ©"

Column Name: Timeless or Trendy?
Topic: The 2018 Audi A5 Coupe
Word Count: 1,080
Photo Caption: The 2018 Audi A5 Coupe
Photo Credits: Audi Internet Media
Series #: 2018 - 25
Download the Microsoft Word version here: 2018 Audi A5 Coupe
Download the Original Image File here: 2018 Audi A5 Coupe