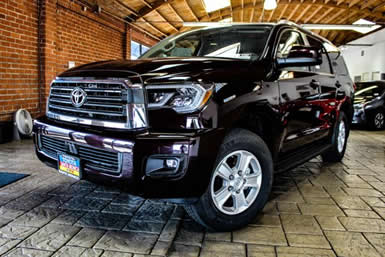 The 2018 Toyota Sequoia 4X4 TRD Sport Review: The Toyota Sequoia is designed for people who need real SUV capability, not just the look. While America's highways appear more like Jeep fan conferences every year as boxy, tough-looking crossover vehicles replace four-door sedans, in reality, very few of these newcomers, even the roomiest ones, can do what a Sequoia can. That gives this tall Sequoia major advantages but equally important drawbacks. The high points: Its tough-as-nails, body-on-frame design makes it a serious beast on trails, with ample ground clearance, torque from the engine and grip from its optional four-wheel-drive system.
It can tow up to 7,400 pounds and has a rugged, versatile, roomy cabin that's equally adept at hauling cargo as people. In terms of SUVs, it's the real deal, not a lookalike poser.

The low points: All that high-riding iron and V8 power make it thirsty. It's rated for 13 mpg in city driving. And because the suspension is designed to handle trails to perfection, it feels a bit bouncier and rougher than some competitors, at least in the off-road-ready TRD Sport flavor I drove.

The TRD Sport is a new trim for 2018, one of several changes that update this long-running SUV for the current model year. It features the blacked-out, sinister appearance that's so popular on everything from cars to minivans these days, along with a sport-tuned suspension with Bilstein shocks.

A facelift helps the Sequoia look more contemporary, with a fresh grille, revised lower bumper, new LED lights and nicer trim on the body. Its overall impression, though, remains that of a built-for-utility box. There's no mistaking its classic SUV shape.

Under the hood is a 5.7-liter V8 engine that makes ample oomph, 381 horsepower and, more importantly, 401 pound-feet of torque, but feels like an anachronism compared to the more fuel efficient, smaller, turbocharged engines in its competitors.

This real V8 feels more rewarding to drivers, though. It has the instant well of power, deep rumble and effortless acceleration that makes me mourn the fact that V8s seem to be all but disappearing from modern cars and trucks. They're just spectacular to drive.

While its cabin may lack some of the sparkle and polish of its recently redesigned competitors from Ford and Nissan, it's hard to argue with the basic functionality and toughness that Toyota engineered into the Sequoia. There are twice as many cup holders as there are seats, for example, and the cargo area has hooks for carrying grocery bags and the ability for the seats to fold flat for easy loading.

Also notable this year is the addition of Toyota Safety Sense as standard equipment, something the brand is rolling out across its entire lineup. It includes automatic braking with pedestrian detection, lane departure alert, radar cruise control and automatic high beams. Blind-spot sensors and rear cross traffic alert are standard equipment, too.
Pricing starts at $48,600 for the SR5 trim and tops out at $64,310 for the luxurious Platinum.
What was tested? The 2018 Toyota Sequoia 4X4 TRD Sport with a base price of $54,340. Options on the test SUV: The TRD Sport Premium package for $3,810, glass breakage sensor for $299, wheel locks for $80, paint protection film for $395 and a cargo cover for $245. The total MSRP price as tested including the $1,295 destination charge came to: $60,464.

Wheelbase: 122 in.
Length: 205.1 in.
Width: 79.9 in.
Height: 77 in.
Engine: 5.7-liter V8 (381 horsepower, 401 lbs. ft.)
Transmission: Six-speed automatic
Fuel economy: 13 city, 18 highway

By Derek Price © AutoWire.Net - San Francisco
The 2018 Toyota Sequoia 4X4 TRD Sport Bottom Line Review provided by:
Tony Leopardo © AutoWire.Net
The Bottom Line: The 2018 Toyota Sequoia 4X4 TRD Sport is a traditional, body-on-frame SUV with the rugged looks to match. Revised styling and standard safety features are among the upgrades for 2018. A chunky shifter and thick steering wheel add to the powerful, truck-like driving experience of the very capable Sequoia.

Why buy it? It's designed to do the real work of towing, hauling and off-roading. It comes with a massive V8 engine, a rarity among SUVs these days, and Toyota's reputation for durability.
And maybe, just for those reasons alone, you should "Drive one, Buy one, Today ©".
This Bottom Line Review is provided by: Tony Leopardo © AutoWire.Net
"Tony the Car Guy" is an automotive writer, editor and publisher in the San Francisco Bay Area. If you have a question or comment for Tony send it to TonyLeo@pacbell.net or visit AutoWire.Net at www.autowire.net - And remember: "You Are What You Drive ©"

Column Name: A Back-To-Basics SUV
Topic: The 2018 Toyota Sequoia 4X4 TRD Sport
Word Count: 818
Photo Caption: The 2018 Toyota Sequoia 4X4 TRD Sport
Photo Credits: Toyota Internet Media
Series #: 2018 - 34
Download the Microsoft Word version here: 2018 Toyota Sequoia 4X4 TRD Sport
Download the Original Image File here: 2018 Toyota Sequoia 4X4 TRD Sport