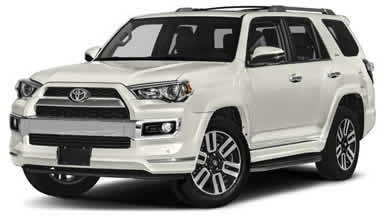 The 2019 Toyota 4Runner TRD Pro Review: There's something to be said for contrast, and the Toyota 4Runner definitely provides that on the showroom floor. Parked next to Toyota's more refined and freshly designed Highlander, the 4Runner offers a dramatic lesson on the difference between 1990's style SUVs and today's wildly popular crossovers. For people who want, or need a real SUV, with both the capability and drawbacks that entails, the 4Runner offers buyers a choice that many brands have abandoned. Designed first and foremost for off-road driving, the 4Runner feels heavy, huge and tall.
People who drive pickups will be perfectly at home with the hefty driving feel and high seating position that you climb up into, making every drive feel a bit adventurous.
Compared to the Highlander, which drives more like a big Camry sedan, it's a night-and-day difference.

My favorite flavor of 4Runner, the made-for-trails TRD Pro, gets a noticeable upgrade this year that includes Fox internal bypass shocks, a roof rack, standard JBL premium sound system and a skid plate with big, bold "TRD" lettering.

I was pleasantly surprised at just how comfortable the Fox shocks felt on my TRD Pro test vehicle. While it's still obviously not designed to be a commuter car, I was expecting this meanest off-road grade to have a stiffer, rougher ride, more like the TRD Pros of the past. But just like they do in off road vehicles, the internal bypass shocks manage to soak up potholes and bumps impressively well while also delivering good control and traction off the pavement.

Still, there's a reason car-like crossovers such as the Highlander outsell traditional, truck-based SUVs like the 4Runner by a wide margin. There are some meaningful downsides to all that heft and capability.

At the top of the list is gas mileage. My tester was rated for 17 mpg in the city and 20 on the highway. At a time of low gas prices, both now and in the 1990s, that's not such a big deal, but it will be more painful every time prices spike in the future.

The 4Runner also has an interior that shows its age. A small digital screen feels odd in such a big vehicle in contemporary America, and the plastics and overall blocky design don't match the sleeker, soft-touch cabins that are available today. If you can overlook that, the layout is quite smart and useful, including a huge cargo area with an optional slide-out floor and large, easy-to-use control knobs that feel beefy in your hand and are simple to grab and understand. If you believe, as I do, that function should dictate form, you'll love it.

Also new for 2019 is a Nightshade Edition 4Runner with blacked-out wheels and trim for a more custom, menacing and ominous look.

Pricing for the 4Runner starts at $34,910 for the base SR5 trim. The TRD Off-Road package, which is not quite as extreme as the Pro, starts at $38,085. The Limited trim with a luxurious chrome look starts at $43,225, while the glorious, aggressive TRD Pro tops the range at $46,415.
What was tested? The 2019 Toyota 4Runner TRD Pro with a base price of $46,415. Options on the test truck: Running boards for $345, paint protection film for $395 and a hitch ball mount for $60. The total MSRP price as tested including the $1,045 destination charge came to: $48,260.

Wheelbase: 109.8 in.
Length: 191.3 in.
Width: 75.8 in.
Height: 72 in.
Engine: 4.0-liter V6 (270 hp, 278 ft. lbs.)
Transmission: Five-speed automatic
Fuel economy: 17 city, 20 highway

By Derek Price © AutoWire.Net - San Francisco
The 2019 Toyota 4Runner TRD Pro Bottom Line Review provided by: Tony Leopardo © AutoWire.Net
The Bottom Line: 2019 Toyota 4Runner TRD Pro is a real SUV in a world of less capable crossovers. With a savage looking grille, the 4Runner TRD Pro isn't shy about its off-road chops. This high-riding, heavy SUV feels and looks like it could conquer any trail. Plus the 4Runner's high seating position provides good visibility and makes climbing in and out an adventure.
While my test vehicle was not cheap, ringing up at nearly $50,000, it also felt like a bargain compared to luxury off-roaders. The new TRD Pro's mixture of a super-smooth ride and extreme traction reminded me of the pricey Range Rover and Toyota's Land Cruiser, both of which start well over $80,000, albeit with much fancier cabins and amenities.
Designed to withstand brutal off-road conditions, the 4Runner offers real SUV capability with a surprisingly smooth ride. New Fox internal bypass shocks on the TRD Pro are very impressive on and off the road. And maybe, just for those reasons alone, you should "Drive one, Buy one, Today ©".
This Bottom Line Review is provided by: Tony Leopardo © AutoWire.Net
"Tony the Car Guy" is an automotive writer, editor and publisher in the San Francisco Bay Area. If you have a question or comment for Tony send it to TonyLeo@pacbell.net or visit AutoWire.Net at www.autowire.net - And remember: "You Are What You Drive ©"

Column Name: A Legitimate Different SUV
Topic: The 2019 Toyota 4Runner TRD Pro
Word Count: 894
Photo Caption: The 2019 Toyota 4Runner TRD Pro
Photo Credits: Toyota internet Media
Series #: 2019 - 05
Download the Microsoft Word version here: 2019 Toyota 4Runner TRD Pro
Download the Original Image File here: 2019 Toyota 4Runner TRD Pro