Half Moon Bay California's Festival of Magnificent Machines Marks 29th Year
Pacific Coast Dream Machines Show Returns Sunday, April 28, 2019 to Half Moon Bay Airport World-Class Tricked-Out Cars and Trucks, Fantastic Flying Machines, Custom Motorcycles, Quirky Contraptions, Warbird Flyovers, Dream Machine of the Year Awards
High-Flying Freestyle Motocross Stunt Shows Plus Quad Wars Wheel to Wheel Racing Monster Truck Rides, Helicopter and Plane Rides, Unimotorcycle Drag Racing, Spectacular Skydiving, Special Robotics Display and Demo, NASA's Exploration of Space Exhibit, U.S. Open Trophy Tour Photo Booth Plus Bob Senz' Big Cacklefest, a Mass Firing-Up of the Engines Headline The Coolest Show on Earth
A Benefit for the Coastside Adult Day Health Center
THE COOLEST SHOW ON EARTH ROLLS INTO HALF MOON BAY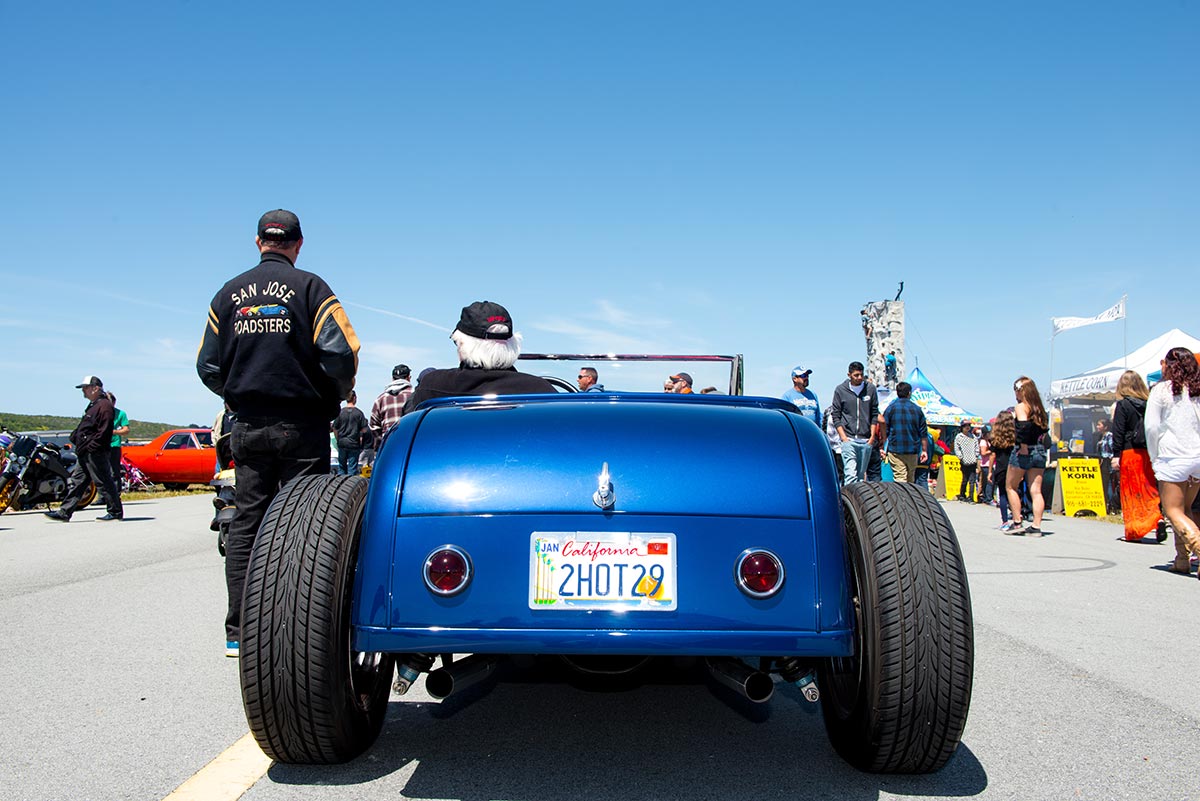 There are car shows, air shows, motorcycle shows, tractor shows, maker fairs, music festivals, food festivals, and living history festivals galore. Mix them all together in one venue on one day and you've got Half Moon Bay California's remarkable, one and only Pacific Coast Dream Machines Show — marking its 29th year in 2019 with a massive celebration of mechanical ingenuity, power and style.
It's quite simply the "Coolest Show on Earth". This year's spectacular 29th annual show will be held on Sunday, April 28, a one-day mega-show, from 10 a.m. to 4 p.m. at Half Moon Bay Airport, located in the picturesque seaside town of Half Moon Bay, CA about 20 miles south of San Francisco.
The show is a whimsical, fascinating, amusing, curious and absolutely unique show and tell spectacle featuring 2,000 magnificent driving, flying and working machines from the 20th and 21st centuries. The world's coolest cars of every era and style, model-T fire engines, vintage busses, custom motorcycles, tricked out trucks, sleek streamliners, one-of-a-kind antique engines and tractors and historic military aircraft will be among the mesmerizing displays.

Headline attractions scheduled to appear include:

• The west coast's biggest, baddest gathering of the world's coolest cars, trucks, motorcycles and aircraft.

• Bob Senz' Big Cacklefest – a mass synchronized firing-up of the engines (10am,12pm, 2pm).

• Spectacular skydiving performances with military style jumps from the C-47 Skytrain by the experts at Precision Skydiving.

• Three (3) 20-minute electrifying, high-flying 4-rider freestyle motocross stunt shows (10:30am, 12:30pm, 2:30pm).

• New this year: super fast, intensely competitive grudge match style Quad Wars wheel to wheel racing.

• Inspiring flyovers by some of our nation's most storied military aircraft in memory of Eddie Andreini Sr., world-renown aerobatics pilot, founding Dream Machines contributor and pillar in the Half Moon Bay community.

• Magnificent military aircraft including a Douglas C-47 Skytrain, P-51 Mustangs, YAK Russian fighters and an impressive array of L-39, T-6 and T-28 military fighters and trainers plus a U.S. Coast Guard Rescue Helicopter.

• Mazda Raceway Laguna Seca's special display of motorcycles to showcase their upcoming MOTUL FIM Superbike World Championship GEICO Motorcycle U.S. Round with the MotoAmerica Championship of Monterey.

• Super sleek speed machines and streamliners in "World Record Wonderland".

• New this year: a special NASA exhibit showing their amazing journey through humankind's exploration of space.

• New this year: a special robotics display and demo by Bay Area high school robotics teams and manufacturers.

• Baylands Quarter Midget Racing Association's special exhibit of competition-ready mini race cars.

• A special display and parade of Dragnet-like vintage police cars from the 60s and 70s.

• An array of nostalgia dragsters to honor the former Half Moon Bay Drag Strip.

• "Mustang Madness", a spectacular display of America's Premier World War II Fighter.

• Ultra thrilling rides in helicopters, vintage biplanes and a P-51 Mustang plus heart-pounding monster truck rides.

• Refurbished fly-wheel engines from the Early Days Gas Engine & Tractor Association and meticulously restored logging equipment and artifacts from Willits CA-based Roots of Motive Power.

• Uniquely wild and crazy, side-by-side, single-wheel unimotorcycle drag racing.

• The uniquely groovy, customized What's Up Photo Booth trailer, complete with a fully functional smoke stack and custom designed interior, "Dolores" takes professional quality photos that are printed instantly. Digital photos are also available.

• Thrilling bungee jump, waterballerz, rock climbing wall, a giant 22' climb and slide obstacle course and inflatable arena, Birdman Bats Batters Box mobile batting cage, face painting, body art, glitter tattoos and tons of awesome amusements in the Super Duper Funzone.

• Fabulous food and drink with Bloody Mary's and Coastal Cosmos from Half Moon Bay Distillery, Classic Motorhead IPA and Kolsch from Half Moon Bay Brewing Company, tasty varietals from Barterra Winery and craft cocktails from Longboard Margarita Bar.

• Stellar live music by Wee Willie Walker & Terrie Odabi with The Anthony Paule Soul Orchestra, The Inciters, and the Terry Hiatt Band.

• Half Moon Bay Pilots Association Saturday Hangar Dinner at the Andreini Family Hangar (April 27, 5:30 pm) at Half Moon Bay Airport. Enjoy fantastic craft beer from Hop Dogma and great Scottish music by Fret & Fiddle. Tickets are $35 per person, available at the door.

SPECIAL ATTRACTIONS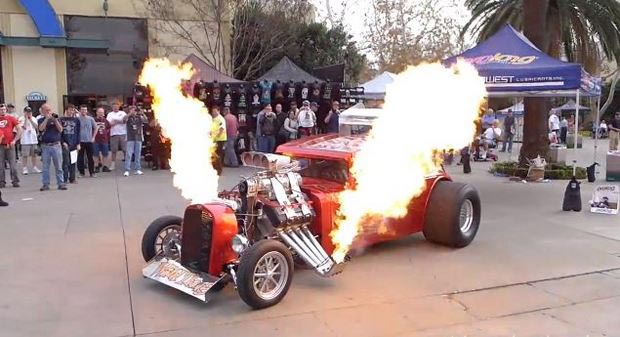 Among the special attractions this year are Bob Senz' Big Cacklefest (to honor the show founder) – a mass synchronized firing-up of the engines of all the magnificent machines on display (10am,12pm, 2pm), spine-tingling vintage warbird flyovers (11am and 1pm), spectacular skydiving performances with military style jumps by the experts at Precision Skydiving, electrifying 4-rider freestyle motocross stunt shows with exciting Quad Wars wheel to wheel racing (10:30 am,12:30 pm, 2:30pm), Mazda Raceway Laguna Seca's special display of motorcycles to showcase their upcoming MOTUL FIM Superbike World Championship, a special NASA exhibit showing their amazing journey through humankind's exploration of space, a featured robotics display and demo by Bay Area high school robotics teams and manufacturers, Baylands Quarter Midget Racing Association's special exhibit of competition-ready mini race cars, wild and crazy side-by-side unimotorcycle drag racing, monster truck rides, helicopter and plane rides, plus refurbished fly-wheel engines from the Early Days Gas Engine & Tractor Association and meticulously restored logging equipment and artifacts from Willits CA-based Roots of Motive Power.

THE WORLD'S COOLEST CARS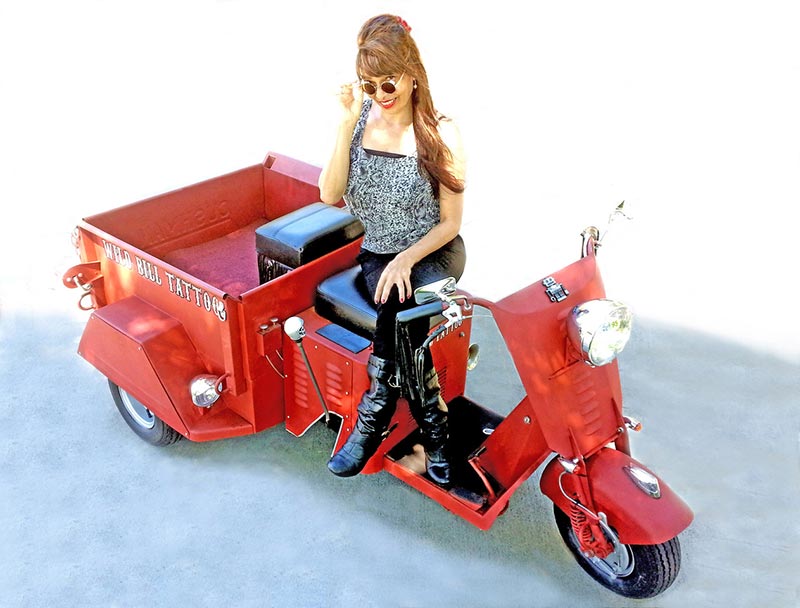 It's one of the west coast's biggest, baddest gatherings of the world's coolest cars. Spectators will get a rare up-close look at antique horseless carriages and Ford Model T's, fanciful touring and luxury cars, powerful sports cars, custom cars and street rods, muscle cars, vintage and modern era high-performance race cars, quirky art and pedal cars, modified street machines with cutting edge styles, exotic high-performance cars, stylish European cars, ultra cool low-riders, sporty compacts, modified imports with flashy graphics, fashionable hip-hop urban show cars, homebuilt kit cars, super-charged turbo cars and trucks, "green" technology/alternative fuel vehicles, streamliners, dragsters, funny cars, gassers, and jet cars.

FANTASTIC FLYING MACHINES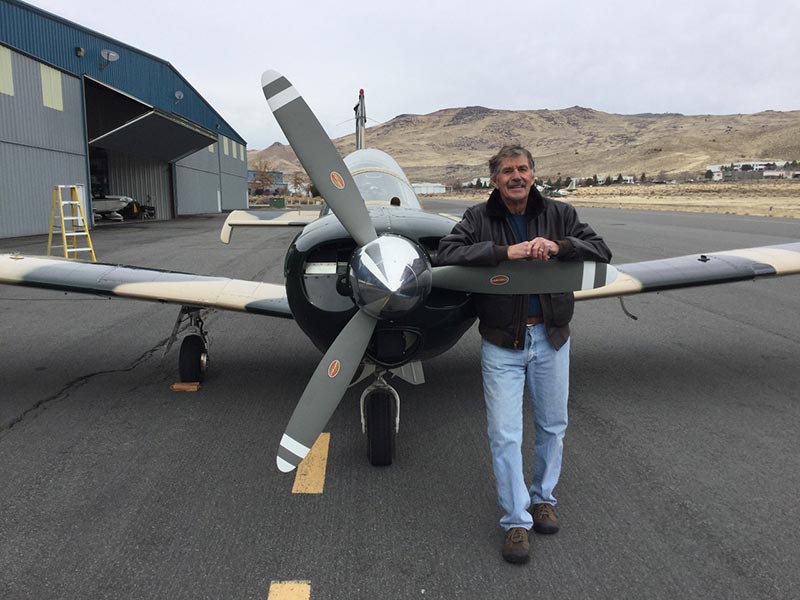 Hundreds of aviation wonders are expected to be on display — headlined by legendary vintage warbirds like the Douglas C-47 Skytrain plus stylish homebuilts, classics from the '40s and '50s, sport and ultralight aircraft. Inspiring flyovers by some of our nation's most storied military aircraft promise to be a fan favorite – all flown in memory of the late Eddie Andreini Sr., world-renown aerobatics pilot, founding Dream Machines contributor and pillar in the Half Moon Bay community. Plus there's P-51 "Mustang Madness" –– a spectacular display of America's premier World War II fighter along with YAK Russian fighters and an impressive array of L-39, T-6 and T-28 military fighters and trainers plus a U.S. Coast Guard Rescue Helicopter. Thrilling rides will be offered in helicopters, vintage bi-planes and a P-51 Mustang.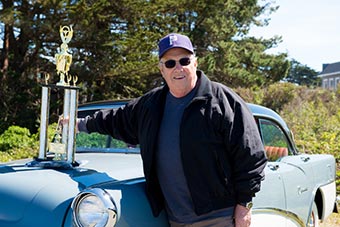 DREAM MACHINE OF THE YEAR AWARDS

The Dream Machine of the Year Award is expanding this year with world-famous "kustom" car designer and builder John D'Agostino teaming up with Mike Hennessy of Hot San Jose Nights and the Car Guy Channel to sponsor the John D'Agostino Crystal Award of Excellence for the Best of Dream Machines. We're upping ante with three cars receiving Best of Dream Machines awards based on different style categories: full custom, creativity and downright cool from the miles of magnificent machines on display. A special trophy will be awarded at a recognition ceremony during the show (3pm at the music stage).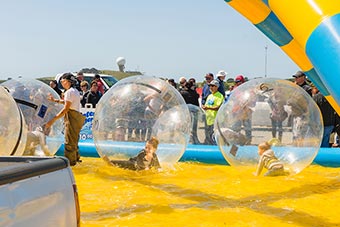 SUPER DUPER KIDZ FUNZONE

The attractions for youngsters are awesome and endless in the Super Duper Kidz Funzone: an ultra-thrilling bungee jump, rock climbing wall, wild and wacky waterballerz, the Toxic Rush giant 22' climb and slide obstacle course, Birdman Bats Batters Box mobile batting cage, plus super cool face painting, body art and glitter tattoos.

U.S. OPEN TROPHY TOUR PRESENTED BY LEXUS

Yes, you really can take your picture with the U.S. Open Trophy plus test your stroke on the mini putting green, take home a customized key chain and check out the 2019 Lexus LX, Crafted to Command!


A fully wrapped interactive T-Mobile experience on wheels complete with a mobile store, with brand ambassadors to engage with festivalgoers, a free recharging station and great giveaways!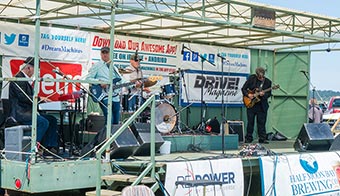 STELLAR LINEUP OF CONTINUOUS LIVE MUSIC ALL DAY ...

The exceptional lineup features Wee Willie Walker & Terrie Odabi with The Anthony Paule Soul Orchestra, The Inciters, and the Terry Hiatt Band.

FABULOUS FOOD

Some of the Bay's best food trucks and food vendors will be serving up delicious lobster rolls, clam chowder, fried shrimp po' boys, fries, fish and chips, fried calamari, fish tacos, crab cakes, key lime pie, burritos, nachos, wa ha ka bowls, hamburgers, corn dogs, sausages, cheesesteaks, beef and chicken kabobs, hot dogs, hot links, tri-tip sandwiches, tacos, pizza, salads, kettlecorn, shave ice, coffee drinks, smoothies, pastries, Dippin' Dots ice cream, fresh fruit pops, and frozen lemonade.

DELICIOUS COASTAL-INFUSED DRINK

Enjoy custom cocktails and beer just for the show – Bloody Mary's and Coastal Cosmos from Half Moon Bay Distillery, Classic Motorhead IPA and Kolsch from Half Moon Bay Brewing Company, tasty varietals from Half Moon Bay's Barterra Winery and go-to cocktail classics like Irish Coffees, Moscow Mules, Jack and Cokes, and fresh fruit Margaritas from Longboard Bar. Plus Mike's Harder Lemonade and PathWater, 100% responsibly and locally sourced water in an aluminum reusable bottle.

WHAT'S UP PHOTO BOOTH

Inventor/mad scientists and husband/wife team Paul and Debbie Suppspent countless hours of design and collaboration with world-class engineers to bring you the ultimate photo booth experience. "Dolores" is a work of art on wheels; she is a fully automated mobile photo booth that allows you the unique opportunity to take a step back in time while enjoying technological advances of today. Complete with a fully functional smoke stack and custom designed interior, Dolores takes professional quality photos that are printed instantly for you to hold as keepsake for years to come. Digital photos are also available.

HALF MOON BAY PILOTS ASSOCIATION SATURDAY HANGAR DINNER

The traditional pre-opening event at the Andreini Family Hangar (April 27, 5:30 pm) at Half Moon Bay Airport. Preview some of the historic aircraft and custom cars that will be displayed at the Dream Machines Show and enjoy a festive barbecue tri-tip dinner party. Enjoy fantastic craft beer from Hop Dogma and great Scottish music by Fret & Fiddle. Tickets are $35 per person, available at the door. Parking is on the airport field – enter off Capistrano Road.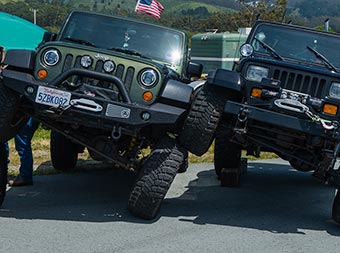 REGISTER YOUR MACHINE

To show a car, truck, motorcycle, aircraft or other machine, the registration fee is $40 ($50 for entries postmarked after April 15) and includes a custom dash plaque and admission for two people.

REGISTER YOUR VEHICLE

SPECTATOR ADMISSION

Spectator admission is $25 in advance ($30 at the gate) for adults (age 18-64), $15 in advance ($20 at the gate) for ages 11-17 and 65+, Free for kids age 10 and under (with paying adult).

BUY TICKETS

PARKING

Parking at the event is included in the admission price. There is a designated area for bicycle parking at the south end of the airport at the Mezza Luna gate. Click here for the event map.

ACCESSIBLE PARKING

There will be specially marked handicapped parking on the airport grounds. Attendants will be on-site to direct you. Click here for the event map.

FIRST AID/LOST & FOUND

First aid and lost and found is located at the Information Booth – please refer to the event site map. Click here for the event map.

SHUTTLE BUS

A special shuttle bus is available to shuttle visitors from the auto display areas at the central/south end of the airport to the aircraft display area at the north end. Click here for the event map.

NO PETS, PLEASE

Please be considerate. For the safety, comfort, and courtesy of your pets and festival-goers, please leave your pets at home. Large crowds and noise make it a very stressful and dangerous environment for pets.

PERSONAL CONVEYANCES

No personal golf carts or motorized conveyances are permitted at the event. Exceptions will be made for disabled participants with single-person conveyances only. The use of motorized carts, mini-bikes, bicycles, scooters, skateboards, and roller/inline skates is not permitted within the gates of the event. For the safety and comfort of all of our customers, weapons of any type, pets (with the exception of service animals), cans, glass bottles, are not permitted within the gates of the event. No BBQ's allowed within the gates of the event. No outside alcohol allowed within the gates of the event.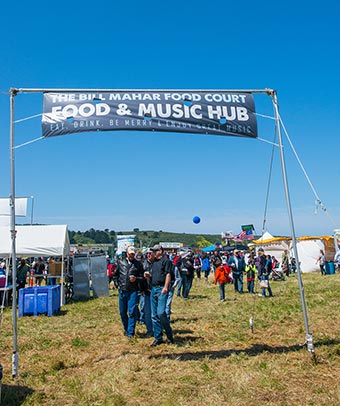 EVENT DATE/HOURS

The show is open to the public on Sunday, April 28 from 10 am to 4 pm. Gates open at 7 am for those that have registered their machine or plan to register the day of show.

EVENT LOCATION

Half Moon Bay Airport, 9850 N. Cabrillo Highway, Half Moon Bay CA 94019 – located on Highway 1, about 20 miles south of San Francisco and 5 miles north of Highway 92. Get directions.

EVENT BENEFICIARY

The show benefits the Coastside Adult Day Health Center. Thanks in part to fund-raising support from Dream Machines, the sparkling new Coastside Adult Community Center opened in 2014. Drop by their facility at 925 Main Street in Half Moon Bay.

INFO-LINE/WEB/SOCIAL MEDIA

For event information and registration forms, call the info-line at 650-726-2328, "Like" our Facebook page or follow us on Twitter and Instagram.
The 29th Annual 2019 Pacific Coast Dream Machines Show Review provided by:
Tony Leopardo © AutoWire.Net "Tony the Car Guy" is an automotive writer, editor and publisher in the San Francisco Bay Area. If you have a question or comment for Tony send it to TonyLeo@pacbell.net or visit AutoWire.Net at www.autowire.net - And remember: " You Are What You Drive © "

Column Name: The "Coolest Show on Earth"
Topic: The 29th Annual Pacific Coast Dream Machines Show
Word Count: 2,497
Photo Caption: The 2019 Pacific Coast Dream Machines Show
Photo Credits: Miramar Events Internet Media
Series #: 2019 - 07
Download the Microsoft Word version here: 2019 PCDM